One of these 7 songs will be 2017's song of the summer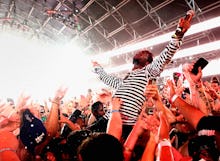 As we've said before, and will undoubtedly say again, song of the summer is a relatively arbitrary title. It doesn't claim to celebrate excellence, as the Grammys (arguably) do; it doesn't discriminate between the young breakout upstart or the time-tested veteran; it doesn't reward innovation, nor does it necessarily penalize it. Every year, the song of the summer simply crystalizes a vision of music culture as it is in the present moment. 
It rewards the song that was omnipresent during a given summer, whether or not listeners seem to despise or appreciate that fact.
Last year, Billboard's charts, compiling radio spins, sales data and streams, crowned Drake's "One Dance" as song of the summer. The year before, it was Omi's "Cheerleader." The year before that, it was Iggy Azalea's "Fancy." One thing all three had in common: All of them came out well before summer arrived. 
According to research from FiveThirtyEighty, more than half of all songs of the summer come out before people even think about digging out their summer wardrobes. That means there's a very good chance we've already heard this year's song of the summer. Judging by the way the charts are trending and what releases are on deck, it will likely be one of the following seven.
1. "XO TOUR Llif3" by Lil Uzi Vert
Everyone has to have an opinion on Lil Uzi Vert in 2017. Depending on where you stand, Lil Uzi Vert is either a revitalizing force for rap or he's the harbinger of its inevitable downfall. There's little to no middle ground, except if you're Waka Flocka Flame and think his music is actually rock 'n' roll. Either way, the young star has been lighting up the festival circuit and, against all odds, his SoundCloud one-off "XO TOUR Llif3" has become a top 10 hit. And with his upcoming Luv Is Rage 2 mixtape still on the way, it's unlikely that the No. 8 spot, where it's currently sitting, will be its peak.
2. "I'm the One" by DJ Khaled Feat. Justin Bieber, Quavo, Chance the Rapper and Lil Wayne
What does DJ Khaled actually do? The question will be asked and asked again as long as the mogul and social media guru continues to insist on shouting his name on blockbuster rap tracks. The short answer: He wins. The slightly longer answer: He makes anthems — only anthems — and on paper, "I'm the One" is theoretically the perfect summer jam. It's a reverse-engineered, tropical-tinged banger, bringing together several of the hottest young artists and one of the legends they're indebted to. It's seems like a shoe-in for the award, until you listen and realize its composition is only OK.
3. "Despacito" by Luis Fonsi and Daddy Yankee Feat. Justin Bieber
Billboard's current no. 1 song, "Despacito" a Spanglish anthem by Luis Fonsi and Daddy Yankee, is noteworthy in that it's the first mostly Spanish-language song to hit the top spot since the "Macarena" in 1996. It also helped Beiber break a chart record, becoming the first artist to notch back-to-back No. 1 debuts. It's safe to say that after breaking records like that, it won't be going anywhere anytime soon.
4. "Shape Of You" by Ed Sheeran
Never underestimate Ed Sheeran. Even though the chart-topping reign of the U.K. sensation's bouncy "Shape of You" was disrupted by Kendrick Lamar's "Humble" — and the rapper's newest album bested Sheeran's first week debut by around 30,000 units — the pint-swilling babyman will be back. The song is already starting to climb back up the charts as the weather warms and listeners start demanding more joyful, bite-sized summer tunes. It moved back up from No. 5 to No. 4 last week, and it will likely hover there for several more weeks to months, depending on radio's attention span.
5. "Slide" Calvin Harris Feat. Frank Ocean and Migos
At some point, between breaking up with Taylor Swift and linking up with her arch-rival Katy Perry, Calvin Harris got dope. The producer has been quietly releasing some of the most slyly irresistible summer bops for the past few months, starting with "Slide" featuring Frank Ocean and Migos, which takes his European EDM sensibilities and mixes them with American radio-friendly soul. With Harris' Funk Wav Bounces Vol. 1 still forthcoming, "Slide" is due for a huge boost that may finally earn it the chart respect it deserves.
6. "Mask Off" by Future
Future's "Mask Off" simply will not die. With its devilishly quotable opening lines and its coy, flute-driven beat, there's something so delightfully campy and evil about the Atlanta MC's trap anthem. It's been floating around the charts' upper echelons for the past 12 weeks and hasn't gotten played out in the slightest. It still makes the club and the meme pages come alive, and will likely continue to do so as we approach the dog days of summer.
7. "Magnolia" by Playboi Carti
The black sheep of this top seven, "Magnolia" by Playboi Carti is a left-field favorite. It's got an infectious bounce and simple, punchy verses that have been lighting up the festival circuit — drawing even bigger crowds to Carti's stages than Trump did to his inauguration, as one excellent meme alleged. With some big features on Travis Scott's and A$AP Rocky's latest tunes, Playboi Carti is about enjoy a huge boost in name recognition.