'The Young Pope' is getting a second season — sort of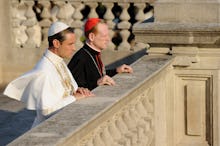 (Full disclaimer: The Young Pope is my favorite show of all time and I can't be expected to discuss the series rationally.) 
The first season of HBO's The Young Pope was an unexpected tour de force, somehow combining sheer meme-ability, Vatican kangaroos and Jude Law unironically saying "There's a new Pope now," with deeper questions about faith, loneliness and absolute power. It was the poster child of so-called "prestige TV," for better or worse. 
It also ends on a rather spectacular cliffhanger. Law's (young) Pope, Pius XIII, collapses while delivering a speech to the masses. He stares into the sky and sees Jesus in the clouds. He might actually be dead. Is he? We might never know. 
HBO and Sky have greenlit another season of Pope-related television from creator Paolo Sorrentino — but there's a catch. It's not The Young Pope season two, it's The New Pope. As reported by Variety, The New Pope will be "set in the world of the modern papacy," but they haven't added any other details, so it's unclear just how Law's Pius XIII would factor into the series. Variety cites sources saying Pius could potentially make an appearance in The New Pope, but with a reduced role. 
Consider me shook. 
I'm not sure how I feel about this. On one hand, it's terrific news that Sorrentino will get another go at HBO. The Young Pope was marketed as a limited series, but the overwhelming popularity of the first season in Europe led the filmmaker to consider continuing the story. But knowing that Law's memorable Pius would barely be a factor after chewing up scenery alongside famous Italian actors and Diane Keaton is a modern tragedy. 
On a macro level: Is this the start of a Pope anthology series? The name would suggest, yes, a new pope — but would that mean that every season of Sorrentino's Pope masterpiece would include a different Pope? I'm skeptical — though there was a time when the thought of an anthology series based on the movie Fargo was considered absurd. 
In the meantime, I guess it would only be fitting to send a prayer to the man upstairs, and have faith that Sorrentino knows what he's doing with his Pope television. Bless up. 
Mic has ongoing coverage of The Young Pope. Check our our main The Young Pope hub here.