iPhone 8: New Apple patents reveal key features to expect on release date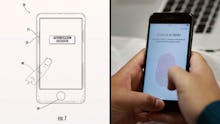 Two new Apple patents published Tuesday by the U.S. Patent and Trademark Office are shedding more insight into what consumers can expect from the much-anticipated iPhone 8. The patents, first spotted by Patently Apple, pertain to the rumored edge-to-edge display and the Touch ID.
One patent shows how an edge-to-edge display could be in place for the iPhone 8. It outlines how a flat screen can cover a smartphone to offer maximum screen size. This fits in perfectly with the existing rumors surrounding the iPhone 8: The premium 5.8-inch device is believed to feature an OLED edge-to-edge display and will be bezel-less.
A second patent is about the Touch ID. Specifically, how to embed the biometric fingerprint reading technology behind the main screen display. Currently, the fingerprint reader is in the home button but with the button being eliminated, the Touch ID would need to be moved. 
Preliminary reports suggested that Apple would be integrating the fingerprint scanner inside the display. But according to recent reports, Apple is struggling to perfect this and is considering placing the scanner in the bag of the device, similar to the Samsung Galaxy S8.
Other rumors about the commemorative smartphone hint there may be wireless charging, a front-facing dual-lens camera, a new smaller A11 chip, extended battery life, improved water resistance and a 3-D sensing system to support augmented-reality technology — or "some form of facial/gesture recognition."