'Nintendo Direct' May 2017? How to watch the 'Arms' and 'Splatoon 2' event live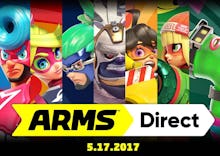 A Nintendo Direct for May 2017 is incoming, ready to divulge Arms and Splatoon 2 details. The announcement of the announcement comes to us from Nintendo on Twitter. Unlike usual, the company isn't playing coy regarding what we'll see on May 17. Arms details and a new Splatoon 2 trailer will surely hit the interwebs.
Nintendo Direct May 2017: What time are the proceedings?
Well, this is short notice. The Nintendo Direct for May 2017 will go down on May 17 at 6 p.m. Eastern. The show will focus on Arms (the game, not anyone's limbs) and give us more details right before the game's launch. Check out Nintendo's digital flyer for the event below.
Nintendo Direct May 2017: Where can I watch?
There's no shortage of ways to watch the Direct. As with past Nintendo Direct announcements, you can view the event online live. Twitch users can watch the video here, while YouTube will likely gain access to the Direct too. Or you can visit Nintendo's Direct website itself here. 
Nintendo Direct May 2017: What to expect aside from Arms and Splatoon 2
Nintendo's made it more than clear that we can look forward to details about their two upcoming flagship Switch titles. As for what else we can expect, likely not much.
There are many updates Nintendo could bring us during the May keynote: Virtual Console on the Switch, SNES Mini details or even what games we can expect in 2018. But with E3 coming up quick, Nintendo will likely want to save some magic for June. Fans will have to hope for at least a teaser come Nintendo Direct day.
More Nintendo Direct news and coverage
Looking for more Nintendo Switch news? Check out how blind gamers are using the Nintendo Switch and why you can't get your Mii to look quite like you. Nintendo's left Joy-Con issue turns out to be a hardware problem — here's how to solve it. Find out how to buy a console amid the recent restock. Learn why the Switch cartridges taste so bad. Check out our comparison photos sizing up the Switch to the Wii U GamePad (part one and part two), or find out how to make use of ethernet without the dock and the best way to get alerts when new stock arrives.