'Injustice 2' Gear: How to get gear to upgrade your fighters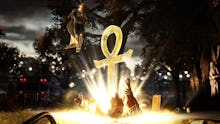 One of Injustice 2's biggest features is the loot system. You can unlock tons of gear to change the appearance and stats of your DC Comics superheroes of choice. You can even unlock brand-new attacks with gear. It's pretty robust. 
But how, exactly, do you get gear in Injustice 2?
How to get gear in Injustice 2
There are a handful of ways to get gear in Injustice 2, but each of them boils down to some variety of "just play the game." Twinfinite has a handy guide for this. 
You can buy loot boxes with in-game currency, which you get for playing the game. I was told at a March preview event there's no way to buy loot with real money, so don't worry about that. There are varying tiers of loot boxes that cost different amounts of currency. For example, Platinum and Diamond are unlocked by completing difficult challenges, and they always contain at least one piece of Epic gear. 
According to Twinfinite, you'll also snag some Epic gear just for playing through the story mode; completing challenges in Multiverse mode; and, of course, just playing the game in general. Loot will come to you at the end of fights, so keep playing Injustice 2's various modes and you'll inevitably get some sweet gear. 
More gaming news, updates, tips and tricks
Check out the latest from Mic, including our list of video games that made fun  of their players, a personal essay about dealing with anxiety through Breath of the Wild, a look at the racist and sexist experiences in eSports and a plea for better character customization options for black characters.