A class-action lawsuit says Walmart discriminated against pregnant employees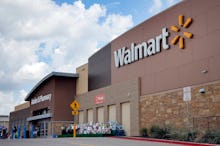 Walmart is facing a class-action lawsuit from two former employees who say the retailer's management discriminated against them during their pregnancies.
According to Rewire, the suit claims supervisors failed to make "on-the-job" accommodations for pregnant employees, forcing them to continue performing strenuous physical labor at the cost of their health.
Otisha Woolbright, who'd worked at a Florida Walmart, reported in the complaint that she'd been hospitalized after straining to lift a 35-pound tray of rotisserie chickens. 
Before it'd gotten to that point, though, she'd told her supervisor that her doctor had warned against heavy-lifting. The supervisor allegedly told Woolbright she'd once seen a pregnant Demi Moore do a somersault on television, so Woolbright had "no excuse."
Woolbright said she was fired soon after for inquiring about pregnancy leave, an accommodation to which she was entitled, according to Walmart's policy.
Talisa Borders had a similar story: Instead of offering Borders accommodations when she provided a doctor's note saying she couldn't lift more than 25 pounds of climb ladders — her Illinois Walmart supervisors forced her to take more than two months of unpaid leave.
When she returned to work after having her baby, Walmart's management placed her in a lower-paying position, giving her a $2/hour pay cut.
These women aren't the first to go public with discrimination accusations against the retail giant related to pregnancy. 
In 2014, when Walmart's new policy for pregnancy accommodations went into effect, ThinkProgress reported the story of Candis Riggins, a woman who was fired from her job at Walmart for calling out sick too many times while pregnant — after allegedly being denied accommodations she asked for multiple times. Last year, the outlet published another piece about a woman named Arleja Stevens who, despite the advice from her doctor, refused to go to the hospital during her pregnancy because she was worried about losing her job.
"I was going to keep working up until my water broke, I went into labor on the floor, I wasn't going to take maternity leave or anything," Stevens told ThinkProgress at the time.
Stevens was eventually fired for taking too many days off of work. 
"In 2017, it's incredible that major companies like Walmart are discriminating against pregnant women—who are simply asking to keep on working and have a healthy pregnancy," Dina Bakst, co-president of A Better Balance, one of the groups behind the suit, told Rewire. "Pregnancy discrimination is a huge problem that disproportionately affects low-wage workers, like those at Walmart."
Walmart senior director of national media relations Randy Hargrove denied any wrongdoing in an email to Rewire, insisting that the company's policy protects women like Woolbright and Borders against such discrimination.
"That policy has long listed pregnancy as a protected status," Hargrove said. "We deny the claims of Ms. Borders and Ms. Woolbright and plan to defend the company."