Here's the latest news on George R.R. Martin's 'Winds of Winter' book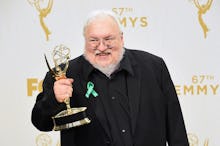 Fans of HBO's Game of Thrones have become a bit more accustomed to waiting than they probably would like. Rather than premiering in March or April, as it has in prior years, season seven of Game of Thrones — set to be the second-to-last — will not arrive until July. That wait, though, is nothing compared to what fans have had to endure for the latest book in George R.R. Martin's A Song of Ice and Fire series.
It has been nearly six years since A Dance With Dragons, the series' fifth book, was released, and that was so long ago that the HBO series has already exhausted, and now moved past, Martin's source material. Still, fans no doubt want to see how the events unfold via the pages of Martin's books, and thus are likely on the edge of their seats for the release of the next Song of Ice and Fire installment, The Winds of Winter. 
While the author has stated in the past that he hoped Winds of Winter would be released sometime in 2017, it is becoming increasingly less likely that this will be the case. In a recent blog post, mostly addressing the rumored Game of Thrones' spin-off series, Martin updated fans on the progress of Winds of Winter. While it seems to be coming along, no release date is mentioned.
"And yes, before someone asks, I am still working on Winds of Winter and will continue working on it until it's done," Martin wrote. "I will confess, I do wish I could clone myself, or find a way to squeeze more hours into the day, or a way to go without sleep." 
It seems that Winds of Winter may be delayed mostly because of Martin's busy schedule and his commitments to other projects. The author ends his blog post by stating that he is working on more than just the upcoming book. 
"There is also "five successor shows, Fire and Blood (that's the GRRMarillion, remember?), four new Wild Cards books, [and] some things I can't tell you about yet," he wrote, adding, "It's a good thing I love my work."
Mic has ongoing coverage of Game of Thrones. Please follow our main Game of Thrones hub here.