H.R. McMaster refuses to say whether Trump leaked classified information to the Russians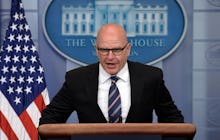 National Security Adviser H.R. McMaster refused to say whether President Donald Trump revealed classified information to Russians, calling Trump's conversation with the Russians "wholly appropriate."
McMaster made the comments at a Tuesday morning briefing with reporters at the White House, in which McMaster tried to deflect the swirling controversy sparked by the Washington Post's bombshell report that Trump divulged classified information to the Russians during a meeting in the Oval Office last week.
Trump, "in no way compromised any sources or methods," McMaster said when asked directly whether Trump shared classified information with the Russians.
"It was nothing that you would not know from open-source reporting," McMaster insisted.
Instead, he said he was more concerned that intelligence officials were leaking to the Washington Post in the first place, saying, "It's incumbent on all of us to take a look at how this leak and other breaches have occurred."
Overall, McMaster's attempt to squash the growing controversy around Trump's conversation with the Russians was unsuccessful — as he didn't actually refute the Post's report.
Instead, he insisted that Trump's conversation was "appropriate" and even added that Trump "wasn't even aware of where this information came from" — leading to questions about whether staff properly briefed the president before the meeting.
McMaster's assertions more or less mirrored Trump's Tuesday morning tweets in which the president defended his own actions.
"As president, I wanted to share with Russia (at an openly scheduled W.H. meeting), which I have the absolute right to do, facts pertaining to terrorism and airline flight safety," Trump tweeted, saying he did it for "humanitarian reasons" and to encourage Russia to "step up their fight against ISIS and terrorism."
As McMaster issued his remarks, more GOP members of Congress came out to raise concern about Trump's reported release of classified information to Russian officials.
"Once again we are faced with inexplicable stories coming from the White House that are highly troubling," Rep. Barbara Comstock (R-Va.) said in a statement. "We need to have immediate classified briefings on what occurred at this meeting so that Congress can at least know as much as Russian leaders."