The 5 best US cities for millennials buying their first home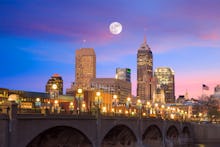 Despite what avocado toast eschewing millionaires would have you believe, many young folks are buying houses and apartments. In fact, 35% of American millennials currently own their own home, according to recent data from HSBC, while 83% of young people worldwide who haven't bought a place say they plan to in the next five years.
Now, buying a home is a tough process, especially at a time when both demand and prices are high: "Generally now is not a really great time for first time homebuyers," Zillow economist Skylar Olsen said. "It's a seller's market."
And past data suggests that many people overestimate the benefits of homeownership while underestimating the costs. To truly be financially (and otherwise) better off buying versus renting — being able to call a landlord when a pipe bursts or a toilet overflows is a nice perk, after all — you need to plan to live in a place for a ten years, according to some financial planners.
On the flip side, a seller's market does mean that it'll hopefully be easier for you to recoup your investment once you do find something you can afford: "That's kind of the rub," Olsen said. "Part of what makes it a great time to get your foot in the door, is that it's a hard time to get in the door." Meaning, your home may continue increasing in value after you buy it.
So where can aspiring homeowners catch a break? In a new report, Zillow analyzed 35 of the biggest metro areas in the United States using five important metrics for first-time buyers, including home value projections, the percentage of listings with a price cut, and the amount of time it typically takes for buying to be more advantageous than renting, aka the "breakeven horizon."
All the cities on the below list have either forecasted home appreciation that's faster than Zillow's forecast for the national average, 2.7%, or offer average homes priced below the U.S. median of $196,500 — or both.
Mic cross-referenced Zillow's top 10 cities with a separate set of data from sister company Trulia, which assessed 100 of the largest cities for how well millennials were faring in terms of median income, educational attainment and homeownership: The five cities below also appeared in the top half of Trulia's ranking, indicating that they are places where millennials are financially thriving, particularly if they want to buy a home.
As opposed to some of the toughest cities for first-time homebuyers — including several metros in California — all five places below offer clear advantages for young people trying to own their own pad.
5. Detroit
Median home value: $138,700
Forecasted appreciation: 3.2%
Home values in Detroit are quickly rising, and homeowners in the city start faring better than renters in only a year and seven months — about four months fewer than the national average, according to Zillow. If you want to work in the automotive industry, Detroit is a no-brainer, but the city is also popular with people seeking jobs in IT and advertising, according to a recent Linkedin report. Known for a great jazz and food scene, there's plenty to do.
4. Pittsburgh
Median home value: $137,300
Forecasted appreciation: 2.5%
Pittsburgh is one of the less competitive markets on the list: Almost 15% of listings have price cuts. The city is also is highly livable despite how large it is, per a recent survey, thanks to its thriving health care system and abundant cultural features, like the Andy Warhol Museum and Phipps Conservatory.
3. San Antonio
Median home value: $158,500
Forecasted appreciation: 3.0%
It takes a little longer to break even on your home in San Antonio than it does in Detroit, but the market is also less competitive — more than 17% of listings currently have a price cut, compared with 12.7% in Detroit, and less than 6% in trendy cities like Seattle. San Antonio is among the largest cities in the U.S., meaning it can offer a lot more than Tex-Mex and barbecue culture, while it still retains certain small-city charms like the famous River Walk. 
2. Las Vegas
Median home value: $219,200
Forecasted appreciation: 4.8%
Though prices are relatively high in Las Vegas, home values are also rising at the fastest clip among cities on this list, with the most potential upside for prospective home buyers. Locals also report that, once you get off the Strip, the mild weather and friendly suburbs make Vegas a great place to raise kids.
1. Indianapolis
Median home value: $137,300
Forecasted appreciation: 3.0%
Indianapolis has half as much available inventory as Las Vegas, but the cost of housing is still comparably quite low. City residents usually break even compared with renters in only 18 months, and the city has a thriving economy; Forbes ranks it as one of the best cities for young professionals. If you get bored easily, there's a surprising range of fun to check out — including art, baseball games, walking and bike paths, gardens and plenty of free activities.
Sign up for The Payoff — your weekly crash course on how to live your best financial life. Additionally, for all your burning money questions, check out Mic's credit, savings, career, investing and health care hubs for more information — that pays off.