'The Keepers' Netflix Release: 4 things to know about the murder of Sister Cathy Cesnik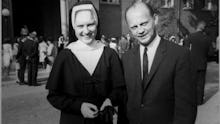 Fans of true crime stories are in for a treat with Netflix's upcoming release of The Keepers. The seven-part docuseries, which investigates the 1969 murder of Sister Catherine Cesnik, a beloved teacher at an all-girls Catholic school in Baltimore, presents an engrossing tale of corruption, abuse, religious hypocrisy and citywide conspiracy. Here's what you need to know before the show premieres Friday:
Sister Cathy's murder is only part of the problem
The story begins with the shocking murder of Sister Cathy, but quickly opens up to reveal a systemic web of sexual abuse in the Catholic school system of 1969 Baltimore. It's suspected that Sister Cathy knew more about this abuse than she let on, which may have led to her demise. Cesnik's body was found on January 3, 1970, with choke marks around her neck and a round hole the size of a quarter in the back of her head. 
Sister Cathy's former students are badass
Although the conspiracy theories surrounding Cesnik's murder have fluttered around Baltimore ever since Cesnik's body was discovered, it wasn't until relatively recently that two of Sister Cathy's former students, Abbie Schaub and Gemma Hoskins — the intrepid investigators at the heart of The Keepers — went public with their findings. We're introduced to them from the get-go, and it becomes clear that theire investigation is not merely part of a hobby; they cared deeply for the bright and charismatic Sister Cathy.
Sister Cathy's story is about the victims
Unlike Making a Murderer, The Keepers is very much an account of the victims of the vast conspiracy that led to Sister Cathy's death. Schaub and Hoskins, along with the show's director and executive producer, Ryan White, are interested in giving voices to the sexual abuse survivors whom the Catholic Church attempted to silence. White told People:
So much of our story focuses on the harm done to children when they're sexually abused and the people who survived that and are still around today, or the people that didn't survive that.
The Keepers is about more than just Sister Cathy's murder investigation
It's clear from the trailer that there was a major citywide coverup of Sister Cathy's murder, spanning from the Catholic Church, to city government officials, to the Baltimore Police Department. Featuring testimony from Baltimore residents, journalists and government workers, The Keepers promises to present an ambitious portrait of citywide corruption in Charm City. As one interviewee says in the trailer, "The story is not the nun's killing. The story is the coverup of the nun's story."
Check out the trailer below.
Mic has ongoing TV coverage. Please follow our main TV hub here.