'Injustice 2' Darkseid: How to get the character in DC's fighting game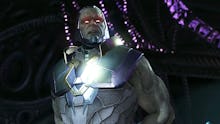 Injustice 2 has plenty of DC Comics characters to choose from, both famous and obscure. One such character is Darkseid, the ruler of Apokolips. However, he's not available in quite the same way as the rest of the roster.
How to get Darkseid in Injustice 2
Darkseid primarily exists as a bonus character for players who pre-ordered the game. So if you pre-ordered Injustice 2, you're good — you can play as Darkseid all you want.
The process is a little more complicated if you didn't pre-order, but you're not dead in the water. According to WWG, you can hover the character selection cursor over Darkseid and purchase him right away for just $6.
It's unclear at this point if Darkseid will ever be available through alternate means. As it stands, if you didn't pre-order Injustice 2, you'll have to spend the equivalent of a modest fast-food meal to unlock him.
More gaming news, updates, tips and tricks
Check out the latest from Mic, including our list of video games that made fun  of their players, a personal essay about dealing with anxiety through Breath of the Wild, a look at the racist and sexist experiences in eSports and a plea for better character customization options for black characters.