10 secrets to help you save money on everything you buy — all the time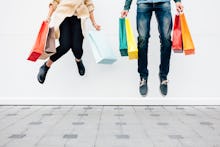 Sometimes saving money feels like playing a game of whack-a-mole at a carnival. You save $6.50 by bringing lunch to work on Tuesday, then blow $7 on a happy hour beer on Friday. You shave your cell phone bill by 20% thanks to a cool work perk, then watch your electric bill zoom up by even more when you're forced to crank up your air conditioner during hot summer months. 
But don't get discouraged. For every way to blow money, there are just as many ways to save. Most people spend the bulk of their income on housing, food and transportation. So take a good hard look at those costs first.
Next drill down on everything else. Are you paying too much for fun stuff like video games or getting ripped off by your credit card company with an unfair interest rate? Are you taking advantage of every freebie you can find — from yoga classes to condoms — or blowout holiday sales on big-ticket items?
Often it's your own head that gets in the way of saving. "If you know you've had a bad day and you're prone to go shopping to reward yourself, you might want to avoid heading in the direction of the stores on that day," University of Chicago Booth School of Business marketing professor Abigail Sussman told the Wall Street Journal. Understanding how your emotions affect your spending — and how marketers manipulate you into parting with more cash than you had in mind — can help make you wealthier too.
With all that in mind, here is your cheat sheet to saving money on absolutely everything. Follow it step by step and you'll be richer in no time.
Ready to save money? In this guide you'll find:
• Brain hacks to help change how you think about money
First, get in the right mindset...
1. Outsmart your self-destructive instincts
We make dumb money choices all the time, even though we know better. Learn to trick yourself into spending less money with moves like paying with cash instead of plastic — and automating your savings with apps like Acorns and Digit. Weirdly, downloading one of those age-your-face apps could help you save more, too: Here's why.
Admit when FOMO is destroying your monthly budget and learn to reign in emotional spending by first setting aside some cash you spend guilt-free. Once you've hit that limit for the week or month, pump the breaks. And fight the siren call of the hedonic treadmill by putting any raises and bonuses straight into savings — so you don't feel like you have new money to spend.
2. Use mind games to reach money goals
You can also hack your money brain to pay debt off faster using the debt snowball strategy. Then turn the mind games on the companies you do business with.
You can actually save money by complaining if you choose your battles wisely and serve up your tastiest "complaint sandwich." Here's what that means.
... then start saving money on essentials
3. Learn basic shopping tricks
Never overpay for basic purchases like groceries or clothes: Some smart hacks to save money include comparing unit prices instead of sticker prices — and using coupons to subsidize the cost of stuff you already tend to buy. If you buy something and then see it has gone on sale during your window to return the item, you can also negotiate a discount or "price adjustment."
To learn more, here are 21 shopping hacks that save you on everyday purchases, plus a list of the 10 best coupon and discount sites and apps to save you money. Want an easy shortcut? The browser plugin Honey automatically finds you discounts. One more tip, if you're printing, scanning or showing coupons on your smartphone in a store? Be nice to the sales clerks and you might get an even better sweetheart deal.
To keep even more of your cash, check out these guides to getting the best deals when you buy clothes online — and to spending just $5 a day on food. Hint: Keep around a bulk stash of olive oil, nuts, spices and other flavorful ingredients to help make inexpensive produce and meats taste expensive.
4. Know when to shop — and when to stop
A basic rule of thumb for getting deals is to buy when no one else is. June is the best month to buy lingerie and sign up for the gym, for example. Meanwhile, Monday is the best day of the week to stock up on beer and sunscreen, but Wednesday or Thursday are better for discounts on cleaning supplies. Here are the best days and the best months to buy everything.
Buying too much? If you have so much stuff that you can't even fit it into your home, it's probably time to clean out that storage unit, which can set you back as much as $127 a month for a 10-by-10 foot unit. For smart ideas on how to pare down, consider these nine things to get rid of to simplify your life.
5. Live like a grownup without paying through the nose
Your home isn't just your castle, it's your biggest budget item. Moving from the city to the suburbs can save as much as about $70,000 a year in housing and child care expenses, depending on where you are in the country. And, no matter where you live, here's a useful guide to paying less in rent. (Hint: You have more negotiating power than you may realize.)
Already settling in? Check out our mattress buying guide for your arguably-most-important home purchase. Then learn how to create your dream "adult" apartment or house without going broke, using simple tricks like hitting up estate sales for an antique cocktail bar or classic knife set.
If you're in the market for a set of wheels, make sure your car payments won't put you in the red by looking for the least expensive car that meets your needs instead of budgeting an arbitrary dollar amount in advance. And remember that used cars are almost always a better deal since new models lose 10% of their value the second you drive them off the lot.
Ready to get hitched and ride off into the sunset? Wedding savings hacks like hiring a food truck to feed your guests and getting a DJ instead of a live band will save you big. Always a bridesmaid, groomsman or guest? Here's how to get through wedding season as an attendee — while still saving a ton of cash.
And if you haven't committed to an engagement ring yet, but are thinking about it, here's a guide to saving on that. Fun fact: Those who overspend on the ring tend to have less successful marriages.
Save money on fun, too!
6. Trim the fat
If your biggest financial weakness is overspending on all the fun stuff, we've got your back. Start by cutting the cord on cable (while still getting to watch all the TV you want); learning how to save on video games and gadgets; and taking a long hard look at your weekend spending splurges.
If your restaurant tabs are getting out of control, try going out to lunch instead of dinner and BYOB whenever you can get away with it: Chances are that that $40 bottle on the wine menu is worth only $10.
7. Slash your biggest expenses
Sure, there's nothing like a smoke after a nice meal, but your cigarette habit could be costing you a million dollars over your lifetime. Wouldn't you rather spend that money on healthier leisure pursuits instead? Put just a fraction of that money toward summer travel, which you can save on by booking flights on Tuesday afternoons and hitting popular destinations off season.
Visiting a ski lodge in the summer can be a blast thanks to outdoor activities like hiking or ziplining. Or skip packing a suitcase all together and enjoy a staycation where you hop on your bike and take a cooking class in a traditional cuisine, learn a new language and check out an art exhibit.
Don't overspend on financial stuff
8. Plug holes draining your accounts
Keep an eye on your credit card bill and call if you see any weird charges, which could be fraudulent. Try these seven secrets to disputing credit card charges to avoid getting scammed. Avoiding high-interest credit card debt is also easier if you have an emergency fund to cover unexpected expenses.
Already good with your credit card? Make sure you aren't paying unnecessary or too-high fees on your bank (hello ATM fees!) or retirement accounts. For example, find out the expense ratios of the funds in your 401(k): Anything above 0.64% is higher than average. If you're investing on your own, make sure to grow your money cheaply using tips from Mic's online investing guide.
9. Pick up "free" cash
Want free money? Here's how to make sure you get your employer's 401(k) match — plus a guide to squeezing more benefits from your company, some worth thousands of dollars.
Another way to increase the yield from your financial accounts is shopping around for a savings or checking account that pays a higher interest rate: You shouldn't settle for less than 1%, and some banks or credit unions actually pay 5%, with just a few strings attached. If you kept $10,000 in a savings account earning the national average of just 0.08%, you'd have just $8 at the end of the year — instead of the $500 you'd earn with a 5% rate.
Save money by getting stuff for free
10. Find the best freebies
Finally, remember — the best stuff in life is free. Indeed, freebies are the cheapskate's nirvana; you can get everything from condoms to credit reports absolutely free — and sticking with free events can save you hundreds of dollars on your social life. Want freebies delivered to your mailbox every week for free? Sign up with sites like BzzAgent, Influenster and PINCHMe to rake in free cosmetics, toiletries, candy, pet food and more.
Even serious purchases can come for free: Here's how to get free workout classes, college tuition and even a free house.
Dream big. If you get lucky, you might even snag a free castle in Italy, or free ice cream for life through contests: There are even applications currently open to win $1 million for helping to redesign a real estate app or to get $250 a week for two years if you agree to appear in a documentary.
Finally, there's actually a way to get a "chance to win" for free — aka the equivalent of buying a lottery ticket — while still also investing your cash in an interest-bearing, prize-linked savings account. That way you aren't throwing away any money in your quest to retire early: Here's how.
Sign up for the Payoff — your weekly crash course on how to live your best financial life.