'Madden 18', 'NBA 2K18' And More Release Dates: Sports video game calendar for 2017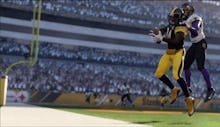 If you're a sports gamer, this is the time of year when your blood starts pumping. MLB The Show 17 has been out for almost two months and the first real details about the upcoming sports video games are beginning to surface.
Speculation on features, rosters and everything else is available just about everywhere, but it's nice to have all of the release dates for any sports game you might be interested in located in one spot.
The calendar is based on information from Gamestop.com.
June sports video game releases
June is a big month for fans of racing games. It begins with the release of Codemasters' routinely solid Dirt 4.
The month ends with the only simulation golf title planned for consoles this year. Golf Club 2 is promising even more customization and depth after its debut in 2016.
June 6
Dirt 4
WipEout Omega Collection
June 13
Cars 3: Driven to Win
June 20
MXGP 3: The Official Motocross Video Game
June 23
Micro Machines World Series
June 27
Golf Club 2
July sports video game releases
This month belongs to the bikes. Another strong Codemasters racing title hits stores. MotoGP17 is the only sports game coming in July.
July 11
MotoGP17
August sports video game releases
The next heavy-hitting sports video game release of the year comes in the month of August.
This will be the first year Madden has used the Frostbite Engine, and a man named Brady is on the cover.
Needless to say, expectations are high.
Aug. 22
Madden NFL 18 (for pre-order customers, Aug. 25 for others)
Aug. 29
Everybody's Golf
Redout
September sports video game releases
No publisher of sports video games understands how to hype a release like 2K Sports. This year's ramp up for NBA 2K18 began in early May when Shaquille O'Neal was announced as the cover athlete for the Legend's Edition.
Expect big news to trickle in at a more rapid pace leading up to release.
Sept. 12
Sept. 15
NBA 2K18 (for pre-order customers)
No official release date as of yet
September will receive a few other titles are officially announced for the month. Traditionally, FIFA, PES, NHL and NBA Live have all been released in September, or in October at the latest for the latter.
It would be a surprise to see either of them released after that. Super Mega Baseball 2 is a potential sleeper hit.
The original was met with critical acclaim and the sequel offers even more customization and some awesome graphics and animation.
Up to now, all we know is that SMB2 will be released in 2017. 
FIFA 18
PES 2018
NHL 18
NBA Live 18
Super Mega Baseball 2
WWE 2K18
Gravel
Project Cars 2
Gran Turismo Sport
Road Rage
Stay tuned for updates as more concrete information is made available.
More sports gaming news and updates
Love sports games? Check out more content from Mic, including tips for leveling up your NBA 2K17 MyPlayer, playing quarterback in Madden 17, our review of MLB The Show 17 and the classic Nintendo sports games we want to see on the Switch.