'Injustice 2' Source Crystals: How to get them and what they do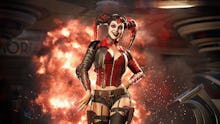 Did you drop $60 to get your hands on your very own copy of Injustice 2? Awesome! Of course, this being 2017, Warner Bros. wants the chance to get even more of your hard-earned money through additional microtransactions. 
The main way Injustice 2 entices you to fork over more dough is through purchasing "source crystals." Here's what you need to know.
Injustice 2 Source Crystals: What are they?
Source crystals are a special in-game currency you can use to purchase cosmetic items for your characters in Injustice 2. These items do not have any effect on a character's performance — they are purely cosmetic, according to Warner Bros.
"Source crystals can only be used to purchase cosmetic adjustments to your fighters, premiere character skins with no gameplay advantage and various shaders for character costumes," they wrote in their announcement.
Similarly, you can use source crystals to "apply the visuals of one piece of gear to another piece," in case you have one piece of gear with the right look, but another piece of gear with the right stats.
Once you level a character up to 20, you can also use source crystals to level other characters up to that same level.
"This is optional and won't affect gameplay or game progression," according to Warner Bros. 
Injustice 2 Source Crystals: Where do I get them?
In order to get source crystals, you'll have to purchase them with real money from the PlayStation or Xbox online stores. Here's the cost breakdown:
2,000 crystals — $0.99
More gaming news and updates
Check out the latest from Mic, including our list of video games that made fun of their players, a personal essay about dealing with anxiety through Breath of the Wild, a look at the racist and sexist experiences in esports and a plea for better character customization options for black characters.