Israel gave White House the classified info Trump spilled to the Russians, report says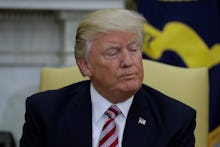 Israeli intelligence officials were the source of the classified information President Donald Trump divulged to Russian officials last week, the New York Times reported Tuesday.
By divulging information gathered by the Israelis to the Russians, Trump possibly jeopardized a crucial relationship with Israel, which has one of the most robust intelligence gathering operations in the world. The relationship is potentially in jeopardy because Russia has a relationship with Iran, one of Israel's biggest threats. 
Trump's actions come a week before Trump is set to visit Israel on his first foreign trip as commander in chief.
Yet it's not the first flap the Trump administration has created with Israel in the past week.
On Tuesday, national security adviser H.R. McMaster refused to acknowledge that the Western Wall, one of the holiest sites for Jews, is part of Israel. The landmark is located in Jerusalem, which the international community doesn't recognize as part of Israel. 
Trump will visit the Western Wall when he travels to Israel. But the Trump administration reportedly refused to allow Israeli Prime Minister Benjamin Netanyahu to be seen with Trump at the wall, reportedly telling the Israeli government that the wall is ''not your territory.''
Trump promised during the transition period that he'd move the U.S. embassy to Jerusalem — a sign that the United States would recognize the city as the capital of Israel. Trump is reportedly still considering moving the embassy despite warnings that doing so could amplify conflicts in the region.