'Overwatch' Season 4 End Date and Time Announced: Here's when the current season is over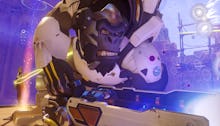 Good news, folks: Blizzard finally announced the end date for season four of competitive play in Overwatch. Previously, Blizzard had only announced the June 1 start date for season five, but now we know exactly when season four will end too.
Overwatch season 4 end date announced
Overwatch's competitive season four wraps up at 8 p.m. Eastern on May 28, according to a post on the Blizzard forums from principal designer Scott Mercer. 
Since season five will be starting June 1, the offseason between the two will be shorter than in previous seasons, which have usually had at least a full week between them.
Blizzard has not announced exactly what updates it will be making to the rules of competitive play before season five kicks off, but we'll let you know as soon as it's ready to share more.
More Overwatch news and updates
For more on Overwatch, check out the rest of what Mic has to offer. Here is an essay about how Efi Oladele was a missed opportunity for Overwatch, a deep dive into the issue of sexual harassment in Overwatch voice chat, an unintentionally hilarious infographic showing the most popular Overwatch characters in each state, a criticism of Blizzard's failures in its design of Symmetra and a dive into a cool trend on Tumblr that converts your most-played heroes into a psychedelic illustration.