'The Voice' season 12 finalists: Who got the instant save vote?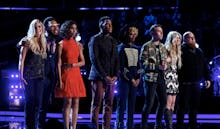 Only two weeks remain in season 12 of The Voice. 
On Monday night, the final eight singers performed live, and four are advancing to finals night. Yes, this means that half the competitors were eliminated on Tuesday night.
Here's how the night works: The three singers with the most votes move on. The two singers with the least amount of votes are eliminated. The final three remaining singers have one last shot to survive via the instant save, and the competitor with the most saves will round out the top four.
Here's how elimination night unfolded Tuesday night.
The Voice season 12 finalists results
Team Alicia's Chris Blue is the first singer to advance Tuesday night. His gospel rendition of "Take Me to the King" brought the house down and the single landed on No. 2 on the iTunes chart.
Team Blake's Lauren Duski also makes it to finale night, which isn't a surprise since her iTunes single of "Ghost in This House" shot up to No. 1 on the iTunes chart.
Team Blake's Aliyah Moulden is the third singer to be saved. She performed "I Can Only Imagine."
Vanessa Ferguson and TSoul are both eliminated. Meanwhile, Jesse Larson, Hunter Plake and Brennley Brown are in the bottom three. Only one singer to be saved by America.
After their individual performances, Team Adam's Jesse Larson receives the instant save and becomes the final singer to advance to finale night. The elimination means that Gwen has zero singers who can win The Voice and Blake has two shots, and Alicia and Adam each have one.
The Voice airs at 8 p.m. Eastern on Monday and Tuesday on NBC.
Mic has ongoing The Voice coverage. Check out our main The Voice hub here.