Trump's advisers are reportedly afraid to leave him alone with foreign leaders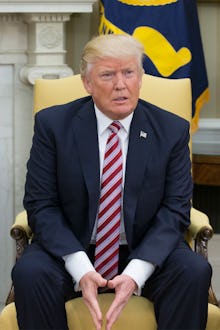 Some senior advisers to President Donald Trump are afraid to leave him alone with foreign leaders over worries about what he might say, the New York Times reported Tuesday.  
"There is a growing sense that Mr. Trump seems unwilling or unable to do the things necessary to keep himself out of trouble, and that the presidency has done little to tame a shoot-from-the-hip-into-his-own-foot style that characterized his campaign," according to Times reporters Maggie Haberman and Glenn Thrush. "There is a fear among some of Mr. Trump's senior advisers about leaving him alone in meetings with foreign leaders out of concern he might speak out of turn."
The report comes the day after an explosive Washington Post piece revealed that Trump divulged classified intelligence to Russian officials during a White House meeting — which the president seemed to confirm Tuesday morning, despite his administration's attempts to defend the president. 
While it is legal for the president to declassify information, the apparently reckless reveal of the intelligence — which was reportedly gathered by Israel — has increased scrutiny on an administration still attempting to contain the fallout from the president's firing of former FBI Director James Comey, who was leading an investigation into his campaign's Russia ties. 
Calls for an independent investigation have grown louder on both sides of the aisle in response to the controversies, and polls have shown Americans turning against the president — including a Public Policy Polling report suggesting that more Americans than not want Trump impeached.
According to the Times, the constant chaos at the White House has intensified divisions among a staff already frustrated with the president's unpredictability — and infuriated Trump, who officials told the paper does not "possess the interest or knowledge of the granular details of intelligence gathering."
In meetings with foreign leaders, according to the Times, Trump national security adviser H.R. McMaster attempts to "insert caveats or gentle corrections" to Trump when the president rambles or says something incorrectly. This has reportedly aggravated Trump, who has called McMaster a "pain" and complained that he talks too much in meetings. 
McMaster isn't alone. According to the Times, Trump has turned on most of his aides — including his son-in-law, Jared Kushner, who just a month ago seemed to be gaining in influence at the White House as Trump looked to shift more toward the center. 
For their part, Trump's staff seems to be increasingly exhausted — and apparently shouted at one another behind closed doors as the Post report once again plunged the White House into damage control mode.
"They are in a downward spiral right now," Sen. Bob Corker (R-Tenn.) told reporters Monday, "and have got to figure out a way to come to grips with all that's happening."