W.H. staffers say Trump couldn't have leaked intel because he didn't know enough about it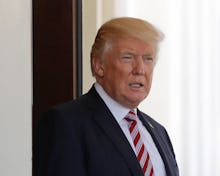 President Donald Trump's top staffers have a new defense for why Trump couldn't possibly have divulged classified intelligence to the Russians: According to the New York Times, staffers say Trump "simply did not possess the interest or knowledge" in the intelligence gathering process to have spilled harmful secrets.
The Times was paraphrasing comments from three unnamed "administration officials," who made the remarks privately the New York Times.
National Security Adviser H.R. McMaster made similar comments Tuesday morning, telling reporters that Trump "wasn't even aware of where this information came from."
White House press secretary Sean Spicer also echoed those sentiments at an off-camera press briefing Tuesday afternoon, saying Trump "wasn't aware" of the source of the intel. 
Trump's divulging of classified information to the Russians has set off yet another firestorm in Washington, D.C., with some GOP lawmakers calling Trump out for the misstep. But even worse for the Trump administration is that the episode threatens to derail his first foreign trip as president.
Trump is set to visit Israel on May 22 — the very country who gave the U.S. the intelligence Trump leaked to the Russians.