7 of the biggest movies premiering at the 2017 Cannes Film Festival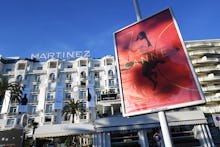 The 70th annual Cannes Film Festival will unroll its many red carpets on Wednesday, and there are a number of exciting films on the docket from both Cannes alumni and newcomers. Even though it's in France, and thus not often attended by many Americans not connected with the movies being presented, the festival offers major insight into which films to look out for in the year to come.
Some of the most revered filmmakers showed the films that made them famous there, like Lars von Trier and his 2011 drama Melancholia, or Jacques Audiard and his 2012 romance Rust and Bone. How a film is received at Cannes can make all the difference for its future, as well as the futures of those attached to it.
Here are seven of the most anticipated movies that will debut at the festival in May.
Written and directed by Sofia Coppola, The Beguiled is an adaptation of Thomas Cullinan's Civil War novel about a wounded soldier who is taken in at a Virginia girls' school and subsequently imprisoned there. It stars Nicole Kidman, Elle Fanning and Kirsten Dunst, with Colin Farrell as the soldier. This will be Coppola's first time back at Cannes since her film Marie Antoinette's terrible reception. Perhaps the French will be kinder when the history under review isn't their own?
Michael Haneke — a two-time Palme d'Or winner — is the filmmaker behind this European drama about a family in Calais, France, during the European refugee crisis. It stars Academy Award nominee Isabelle Huppert and Jean-Louis Trintignant, who were both in Amour — which won Haneke the Palme the last time he was a contender at Cannes.
Just two years after his film Carol was nominated for the Palme, Todd Haynes is back with an adaptation of a Brian Selznick children's book about two children from 1927 and 1977 respectively who both run away from home. Fun fact: Half of Wonderstruck was shot like a silent film and features deaf actors.
Yorgos Lanthimos, whose absurdist film The Lobster was nominated for an Oscar for best original screenplay in 2017, returns this year with another seemingly strange movie. Based on a Euripides tragedy, the story's about a teen who tries to bring a surgeon into his dysfunctional family. It stars Colin Farrell, Nicole Kidman and Alicia Silverstone.
There's a ton of star power behind this family dramedy by Noah Baumbach. Ben Stiller, Adam Sandler, Candice Bergen, Dustin Hoffman and Emma Thompson play members of an estranged family in New York that comes together to celebrate the art of their father.
Okja's already been nominated for the Palme this year, so it's definitely one film to keep an eye on. Director and writer Bong Joon Ho is also a Cannes alumnus, so he's got a bit of a lead on the competition. Okja is about a young girl named Mija who risks everything to save her friend from a powerful company. It just so happens her friend is a pig named Okja. The movie's peppered with a number of stars, including Tilda Swinton and Paul Dano.
While Joaquin Phoenix once said he'd given up acting to become a rapper, he's since starred in several movies, including The Master, Her, Inherent Vice and Irrational Man. Now, Phoenix is taking to the screen again in Lynne Ramsay's drama about a war veteran trying to save a girl from sex trafficking. The screenplay was adapted from a novella by Jonathan Ames with the same title. While it sounds similar to the Taken plot, odds are it doesn't end with Phoenix rescuing the girl while shooting bad guys on a fancy yacht.
Mic has ongoing movie coverage. Follow our main movie hub here.