Benjamin Booker shares 2 live recordings of urgent political blues from new LP 'Witness'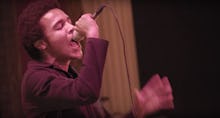 There's no one way to write a protest song. There's no one chord progression that communicates indignation, that immediately stresses the pain and urgency of generations of systemic violence. Singer-songwriter Benjamin Booker writes protest songs in his own way.
Booker, a stand-out rising talent on ATO Records (home to the Alabama Shakes, Brandi Carlile and Hurray for the Riff Raff), plays an urgent synthesis of blues, gospel and soul — forms with long histories of translating black pain into uplifting and enduring compositions. He hones his approach with a raw and unforgiving candor that's reminiscent of downtown New York punk.
It helps make the political condemnation present on his recent singles, "Witness" and "Right On You," far more immediate than they might otherwise be. Their live renditions, premiering below, capture even more of this vital energy, placing Booker's pleas for life within the lineage of protest singers that have sung about these issues before.
The first, "Witness," the title track from his upcoming second album (out June 2), offers an unflinching look at police brutality and the complicity that bystanders assume in letting these deaths multiply. The second elaborates on life's fragility, over a charging backbeat. 
Both videos were filmed in the Columbus Theater in Providence, with several of the same musicians that appear on the album, which was produced by Sam Cohen, who appears in these videos on guitar.
"I stopped in Providence a couple years back on tour and met some wonderful people late one night at the Columbus Theater," Booker wrote in an email exchange. "We drank, explored the old theater's dark corners and pretended we were Shakespearean actors to empty seats. I swore I'd come back one day to do something. Well, here is that something."
"This song, 'Witness,' came out of this experience and the desire to do more than just watch," Booker wrote. The song details what he felt watching the vigilante killing of Trayvon Martin. 
He continued:
"What's the difference between a spokesman and a witness? A spokesman assumes that he is speaking for others. I never assumed that – I never assumed that I could. Fannie Lou Hamer (the Mississippi civil rights organizer), for example, could speak very eloquently for herself. What I tried to do, or to interpret and make clear was that what the Republic was doing to that woman, it was also doing to itself. No society can smash the social contract and be exempt from the consequences, and the consequences are chaos for everybody in the society."
The song, Booker writes, asks two questions that every person in America needs to ask themselves:
"'Am I going to be a Witness?' and in today's world, 'Is that enough?'"
Mic has ongoing music coverage. Follow our main music hub here.