These 11 famous directors were unknown before Cannes Film Festival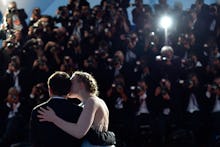 The Cannes Film Festival runs May 17 to May 28, which means many anxious filmmakers will soon witness their art come fully to life in front of a (sometimes booing) international audience. The festival, which celebrates its 70th anniversary this year, is a testing ground for movies that want to make it big. If a Cannes film gets any sort of reaction — whether it's audience-wide boos or a standing ovation — it has the potential to make or break a director's career. Read on to find out which directors got their big break at Cannes.
1. Steven Soderbergh
The director of Ocean's Eleven and Magic Mike was once just a humble 26-year-old with a statement to make. In classic overachiever fashion, Soderbergh managed to win the Palme d'Or, Cannes' highest honor, for his very first film Sex, Lies, and Videotape in 1989. His obvious originality and mastery of craft were enough to catapult him into a long and storied career as one of Hollywood's greatest directors.
2. Ryan Coogler
Coogler's Fruitvale Station, which portrays a Bay Area Police Officer's 2009 shooting of a young black man, helped launch the career of star Michael B. Jordan when it debuted at Cannes in 2013 and won "best first film" for Coogler. The film screened as part of Cannes' "Un Certain Regard" section, which highlights what the festival calls "original and different" works that didn't quite make it into the festival's official lineup. Jordan and Coogler later collaborated again on Creed, and Coogler will helm 2018's highly anticipated Black Panther.
3. Jane Campion
Although Jane Campion technically had a Cannes moment when her film Sweetie debuted at the festival in 1989, the New Zealand director truly had a breakthrough when she became the first and only woman to ever win a Palme d'Or for The Piano in 1993. The film also won three Academy Awards — including original screenplay for Campion — the following year. Campion has since directed such high-profile projects as Bright Star and Top of the Lake.
4. Lars von Trier
The man who gave us the arthouse sex drama Nymphomaniac made a name for himself at the 1984 Cannes Festival when his first feature The Element of Crime broke through with a technical grand prize and a Palme d'Or nomination. He has since received four more major awards from the festival, and his next film, The House That Jack Built, stars Matt Dillon in psychological thriller.
5. Xavier Dolan
French Canadian director Xavier Dolan might not be a big mainstream name, but his LGBTQ-themed films are internationally recognized for their stylish romanticism. The 28-year-old's fifth film, Mommy, won the jury prize at Cannes in 2014, but his career would have never started if his sophomore feature, Heartbeats, hadn't debuted among Cannes' official selections in 2010.
6. Quentin Tarantino
Quentin Tarantino's Pulp Fiction may have been booed at the 1994 Cannes Festival, but it still went on to win the Palme d'Or and — eventually — an Oscar for best original screenplay. Reservoir Dogs was technically his first major film, but Pulp Fiction cemented him as a truly influential voice in cinema.
7. Francois Truffaut
When Francois Truffaut won Cannes' best director award for The 400 Blows in 1959, the director — 27 at the time — immediately became a defining director in the French New Wave movement of cinema. (For non-cinephiles, that's an important movement of cinema.) The 400 Blows essentially defined an entire style of moviemaking.
8. Paul Thomas Anderson
The director of critically-acclaimed hits like Boogie Nights, Punch-Drunk Love and There Will Be Blood made his Cannes debut in 1996 with Hard Eight. The buzz surrounding the movie was enough to propel Anderson to make Boogie Nights.
9. John Singleton
John Singleton's Boyz n the Hood is a classic of black cinema, and made such an impression in Cannes' 1991 "Un Certain Regard" section that it earned him a best directing Oscar nomination the following year. He was the first black man to be nominated for the honor, and he eventually went on to direct 2 Fast 2 Furious and Four Brothers.
10. Neil LaBute
Though known primarily as a playwright, Neil LaBute made such an impact with his critically-acclaimed In the Company of Men that he essentially created a career for star Aaron Eckhart out of thin air. The film debuted in the "Un Certain Regard" section in 1997, and propelled LaBute to make his next film, 2002's Possession, with Eckhart starring alongside Gwyneth Paltrow.
11. Olivier Assayas
Known for helping Kristen Stewart become a serious actor with flicks like Clouds of Sils Maria and Personal Shopper, Olivier Assayas made his madly original debut at the 1996 Cannes Festival with Irma Vep. In the years since Vep screened in the 1996 "Un Certain Regard" section, Assayas has gained heightened stateside recognition thanks to his Stewart collaborations.
Mic has ongoing movie coverage. Follow our main movie hub here.