'Injustice 2' Stage Transitions: How to combo your opponent into another level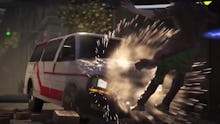 Some Injustice 2 stages are linked together, allowing you to transition from one to another during the same fight. Performing a stage transition can be a bit tricky since you have to have some cooperation from your opponent to trigger them. However, when you can pull off an Injustice 2 stage transition you'll not only get a whole new background to fight against, but you'll also get to humiliate your enemy by hitting them so hard you knock them into another level.
If you want to perform a stage transition in Injustice 2, you're going to have to be an aggressive, calculated fighter. See our tips below for the best method to pull off this level changing move.
How to perform an Injustice 2 stage transition
The key to pulling off a stage transition is to get your opponent to the left or right corner. To do this, you're going to need to be aggressive. Typically, the easiest way to do this is to keep the pressure up with light and medium combos. This will keep knocking your opponent back without giving them much of a chance to recover.
You can only beat your enemy into the next stage from either end of the level you're on, so make sure you have them flush with one of those two sides before attempting the stage transition. Once your opponent is in the corner, you need to execute the stage transition by pressing either Back + X (PS4) or Back + A (Xbox One). If you've pulled it off, the action will enter slow-mo for a moment, and you'll get a small cutscene of your enemy shooting off the current level and onto the next.
A correctly performed stage transition can cause a good chunk of damage. The move can also be linked to the end of a combo which will maximize your damage and make it easier to pull off. Note though, on some stages, you can only pull off a stage transition on one of the two sides of the level, so if you keep trying and it's not working, more than likely you need to try pulling it off on the other side.
More gaming news and updates
Check out the latest from Mic, including our list of video games that made fun of their players, a personal essay about dealing with anxiety through Breath of the Wild, a look at the racist and sexist experiences in esports and a plea for better character customization options for black characters.