Report: Trump tried to get James Comey to kill the investigation into Michael Flynn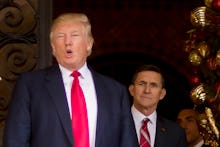 President Donald Trump attempted to get former FBI Director James Comey to kill the investigation into former National Security Adviser Michael Flynn, according to a new report from the New York Times. 
The Times report cites a memo written by Comey shortly after his conversation with Trump. The Times reported parts of the memo were read to one of its reporters by a source identified as one of Comey's associates.
"I hope you can see your way clear to letting this go, to letting Flynn go," Trump allegedly told Comey. "He is a good guy. I hope you can let this go."
The Times described the memo as "part of paper trail Mr. Comey created documenting what he perceived as the president's improper efforts to influence a continuing investigation."
Former Justice Department spokesman Matthew Miller alluded to the release of such a memo around the time Comey was fired, tweeting, "One thing I learned at DOJ about Comey: He leaves a protective paper trail whenever he deems something inappropriate happened. Stay tuned."
The White House denied the allegation in a statement to the Times, saying the account relayed to the paper is "not a truthful or accurate portrayal of the conversation between the president and Mr. Comey."