The Republican House Oversight Committee chair just demanded all Comey memos by next week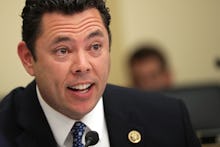 On Tuesday, House Oversight Committee Chairman Jason Chaffetz sent a letter to the FBI telling them to turn over "all memoranda, notes, summaries and recordings referring or relating to any communications between [former FBI Director James] Comey and the president."
The letter follows the New York Times' bombshell report alleging that Comey wrote a memo following one of his conversations with Trump that says Trump tried to get him to end the FBI's investigation into former national security adviser Michael Flynn.
Earlier in the eventing, Chaffetz tweeted that the House Oversight Committee would "get the Comey memo, if it exists" and that he has his "subpoena pen ready."
Democrats on both the House Oversight and Judiciary Committees sent a letter to the Republican chairs of those committees demanding a joint investigation into "whether President Donald Trump and his top officials are engaged in an ongoing conspiracy to obstruct the criminal, counter-intelligence and oversight investigations currently being conducted by the Federal Bureau of Investigation, the Department of Justice and Congress into members of his presidential campaign and their contacts with Russian officials."
The Democrats letter also requests a public hearing with Comey and an immediate vote to subpoena documents on Flynn that the White House refused to provide in response to an earlier inquiry from Chaffetz and ranking member Rep. Elijah Cummings (D-MD.). 
Neither Chaffetz nor his counterpart on the Judiciary Committee Rep. Bob Goodlatte (R-Va.) have publicly responded to the Democrats letter. The FBI also has not yet indicated whether or not it intends to comply with Chaffetz's request.