This drag queen is bringing your favorite memes to life with makeup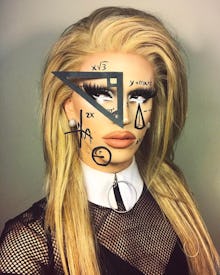 New York City drag performer Aquaria wants to make one thing clear right off the bat: "I'm not a makeup artist. I'm a drag queen."
Yet Aquaria's skill with makeup has taken her Instagram account viral — she's now well over 100,000 followers, more than just about any working drag queen who hasn't appeared on RuPaul's Drag Race. And one of the stunts her fans love the most are her internet-inspired makeup looks.
Over the past few months, the 21-year-old has garnered attention for faces based off her favorite memes: a look modeled after Covergirl's first CoverBoy, James Charles...
A look inspired by the vine of a little girl listening to "Stay With Me"...
And, most recently, a club look based on Brazilian actress Renata Sorrah playing Nazaré Tedesco in a scene from the telenovela, Senhora do Destino (AKA the "confused math lady" meme)...
While Aquaria doesn't plan these looks too far in advance, she does get inspired by things she sees online that she thinks will translate well to makeup. "I like doing a more fashionable take on something ridiculous, so it's funny but it's still a look," Aquaria said in an interview. 
To channel the confused math lady, Aquaria had originally intended to replicate geometric symbols as acrylic jewelry, but instead used paper, a perfect example on her practical approach to drag: Work with what you have.
"I don't always have a lot of resources so a lot of my inspiration comes from working with what I have and making the best of what I'm given: One day I might not have a new wig to wear or a new outfit, but I have makeup, and as long as I have makeup I can do whatever I want, because it's all up to the talent in my hands and not the quality of my resources," she explained. "As long as I have an eyeliner pen, I can do something."
For such a young performer, Aquaria's success is nothing short of astronomical, but she insists that she's been working on her craft for years, experimenting with makeup as a teenager and learning how best to paint through YouTube tutorials. "It was a whole different era," she said. "Back then you were watching makeup tutorials to learn makeup, now you learn makeup as entertainment."
"I would mess around with whatever products I could find. And this was before 'Boys are wearing makeup' and 'We're baking our faces' — we didn't have any of these Kim Kardashian tricks, so it was all just learning how to do beauty makeup and then interpreting that in your own way. I learned by trial and error."
Even when it comes to Aquaria's more outlandish looks, like the confused math lady, there is always a method to the madness. 
While the finished product may be flawlessly over-the-top, Aquaria's approach to makeup is both practical and analytical. "You have to actively be cognitive about what you're doing if you want to improve your makeup," she explained. "You need to know why you're putting this shade here, why you're angling things in particular ways to create illusions, and the difference between negative space and content on the face — once you start to understand why you're doing things then it starts to click more."
While the look was inspired by a ridiculous meme, it still has a graphic, thoughtful element to it. "I was using an equation for the slope of my eyebrow, and I used part of this triangle piece to contour my nose but also angle everything out so it was strategically placed," says Aquaria. "Even though it was based on a meme you could still look at it and there is some sort of artistic and professional quality to it."
If Aquaria can impart any wisdom to drag fans and budding #MUAs around the world, it's that there are truly no rules when it comes to makeup. "Do whatever works well with your face. If you're watching some video that tells you to put two brown lines down the side of your nose and that looks stupid on you, don't do it. Don't be afraid to experiment but don't feel the need to follow some set way of doing makeup."