South Korea's new president: High possibility of military clashes with North Korea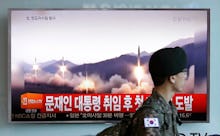 On a Wednesday visit to his defense ministry, new South Korean President Moon Jae-In told his nation that North Korea's provocations — such as the Sunday testing of an intermediate-range ballistics missile — would not go unanswered, warning his people of the high likelihood of military action against their rogue state neighbor to the north, according to Agence France-Presse.
"I will never tolerate [North Korea's] provocations and nuclear threats," President Moon, who was sworn in last Wednesday, said. 
Addressing mounting anxieties about disputed maritime borders to the west and tensions on the land border north of Seoul, President Moon said, "We are living in the reality where there is a high possibility of military clashes."
President Moon called on his military to maintain a "watertight defense posture" against its adversary to the north, Agence France-Presse reported.
President Moon's warning comes just days after Pyongyang celebrated its test of a "perfect weapon system." On Sunday, North Korean leader Kim Jong-un launched a missile that represented "a level of performance never before seen from a North Korean missile," according to an aerospace engineer who spoke to the Washington Post. 
"If the U.S. awkwardly attempts to provoke [North Korea], it will not escape from the biggest disaster in the history," Kim said in a statement to the Korean Central News Agency.
His provocation to the West comes just two days after a senior diplomat for Pyongyang unexpectedly told reporters in China that North Korea would be open to bilateral talks with Washington, apparently swayed by President Donald Trump's recent praise of North Korea's dictatorial leader, whom Trump called a "real smart cookie."