John McCain says Donald Trump is facing scandals "of Watergate size and scale"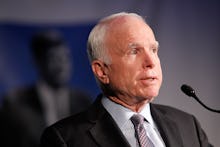 Sen. John McCain (R-Ariz.) invoked Watergate Tuesday to describe the scandal enveloping President Donald Trump's White House, threatening to derail is presidency just 117 days into his tenure.
"I think we've seen this movie before," McCain said Tuesday evening while receiving the International Republican Institute's Freedom Award. "I think it appears at a point where it's of Watergate size and scale. The shoes continue to drop, and every couple days there's a new aspect."
McCain's comments came after the New York Times reported on a memo former FBI Director James Comey wrote, which detailed Trump's effort to kill an investigation into now former National Security Adviser Michael Flynn.
McCain said his advice to Trump is to "get it all out."
"It's not going to be over until every aspect of it is thoroughly examined and the American people make a judgment," McCain said. "And the longer you delay, the longer it's going to last."
Congress is already moving to try and get the information out, with House Oversight Committee Chairman Jason Chaffetz requesting the FBI send Congress, "all memoranda, notes, summaries and recordings referring or relating to any communications between [former FBI Director James] Comey and the president."