Putin trolls Trump, offers up transcript of conversation in the Oval Office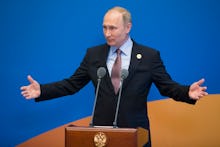 Russian President Vladimir Putin offered to give the United States a transcript of President Donald Trump's conversation last week with Russian officials in the Oval Office, saying he'd hand them over if "the U.S. administration finds it appropriate," CNN reported.
Putin's comments come as Trump faces accusations that he inappropriately disseminated classified information to the Russians in the meeting — possibly jeopardizing relationships with foreign allies whom the U.S. relies on for intelligence gathering.
Putin's offer could be a genuine offer to lend a hand and clear things up, or it could be an attempt to troll Trump. Last week, Trump threatened to release "tapes" of a conversation he had with now-former FBI Director James Comey in the Oval Office. The White House has since refused to say whether Trump records his Oval Office conversations.
Putin dismissed the Comey controversy on Wednesday as "political schizophrenia," according to the Associated Press.