What does DNCE stand for? 3 things you didn't know about the band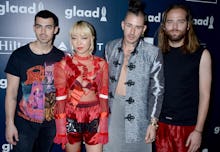 Funk-pop band DNCE are still looking to make their mark on 2017 after releasing one of 2016's biggest hits, "Cake by the Ocean." Headed by former Jonas Brothers' member Joe Jonas, the group dropped their eponymous debut in November. On Thursday, the DNCE followed up with a visual for their brand new single "Kissing Strangers," featuring rapper Nicki Minaj.  
DNCE consists of four members: Joe Jonas, drummer Jack Lawless, bassist- keyboardist Cole Whittle and guitarist JinJoo Lee. Their name means "dance" minus the letter "a," Lee told Nylon in January 2016. Here are other fun facts to know about DNCE before they head on tour this summer.
When was DNCE formed?
Jonas teamed up with his current bandmates to form DNCE in summer 2015. According to their January 2016 Nylon feature, Lawless was a former drummer for the Jonas Brothers. He and Jonas collaborated on the side before deciding to work on a group. Jonas also enlisted South Korean musician Lee, who had toured with Jordin Sparks and Charlie XCX. Whittle, formerly of the band Semi Precious Weapons, also joined the group. 
"I was like, 'Are you cool with doing this for the rest of your life?'" recalls Jonas. "For a lot of musicians that walk into a new band, it's a challenge," he told the magazine.
DNCE's musical inspirations
DNCE are inspired by musicians across genres. Band member Whittle has described their sound as, "Earth, Wind and Weezer." The name is a mash-up of R&B group Earth, Wind and Fire and the rock band Weezer, two acts they're influenced by. The group also takes inspiration from the Bee Gees and James Brown, Jonas revealed in a Billboard interview. Prince is a huge influence to their sound as well. 
DNCE loves wacky lyrics
The catchy "Cake by the Ocean," was a hit, but some may not know that the group's song was really about sex, not just dessert. Jonas revealed in September 2015 that the Swedish producers DNCE were working with kept confusing "cake by the ocean" for "sex on the beach." This is how they the song got its title.
"Then, it became this kind of lyrically wacky song, and it kind of embodies the band," he told MTV in 2015. "It's funky, it's fresh, I think it's something that people can dance to."
Mic has ongoing music coverage. Please follow our music hub here.