Wisconsin Rep. Melissa Sargent wants to make "stealthing" a crime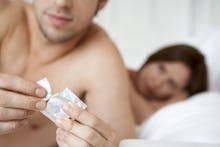 It is currently not a crime to secretly remove a condom during sex without consent, but one Wisconsin lawmaker hopes to change that. Rep. Melissa Sargent has introduced a bill that would classifying "stealthing" as sexual assault. 
"This is clearly a sexual crime," Sargent told the Capital Times. "There are victims and predators."
Sargent introduced her bill, LRB 3346, on May 4. Co-sponsors can sign on until May 19. In the bill, Sargent outlines the definition of stealthing: the removal of "a sexually protective device without the partner's knowledge or permission" after both parties consent to sex on the condition that a condom, diaphragm or other contraceptive is used. 
Stealthing entered public consciousness in late April, when Yale Law School graduate Alexandra Brodsky published a paper in the Columbia Journal of Gender and Law entitled "Rape-Adjacent: Imagining Legal Responses to Nonconsensual Condom Removal." Brodsky spoke with a number of women who'd experienced stealthing, but lacked a name for the behavior. She found the term detailed on instructional online forums — namely, the blog iBlast Inside, where author Mark Bentson offers tips for successful stealthing.
Removing a condom during sex opens the door to transmission of sexually transmitted infections, and to unplanned pregnancy. To many of the women Brodsky interviewed, it also felt like an enormous betrayal. Yet while writing her article, Brodsky told the Chicago Tribune, she found no record of a U.S. court ever hearing a stealthing case. In Switzerland, however, a woman recently filed charges against a man who removed his condom mid-coitus after she told him not to. He was initially convicted of rape — which an appeals court later downgraded to defilement — and a 12-month suspended sentence.
Sargent's bill would effectively alter Wisconsin's definition of consent, making it "conditional [upon] use of sexually protective devices." What sort of punishment stealthing would garner remains to be seen, according to NBC, but in a press release, Sargent said laws should be responsive to evolving crimes.
"Sexual predators will continue to find new, egregious ways to violate and victimize others, and it's important that as legislators we take concerted steps to be responsive as we become aware of it," she explained. "This behavior is predatory and disturbing, and people should know we not only find it reprehensible, but that we won't tolerate it. Ignoring it is simply not an option."