What does the winner of 'Survivor' get? Breaking down the prize before the 'Game Changers' finale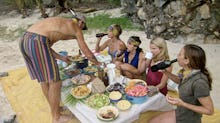 This season of Survivor: Game Changers is inching closer to crowning a winner. 
Brad Culpepper, Tai Trang, Aubry Bracco and other contestants continue to fight to stay on the island for the grand prize. So, how much does the winner of Survivor take home? A lot. 
How much money does the winner get?
Winning Survivor comes with a lot of great perks. Alongside instant fame and a chance to return to the game, the winner takes home a cash prize of $1 million, according to Hollywood Reporter. 
Over the years, previous winners have spent their winnings differently. Bob Crowley used his $1 million to open a glamping retreat. Jeremy Collins put his winnings away to save for his children's education. 
How much does the runner-up take home?
While the winner counts their $1 million, the person who places second in the competition also receives a decent amount of money. The runner-up on Survivor takes home $100,000, according to International Business Times. 
Past winners of the series include Collins, Denise Stapley, Rob Mariano, two-time winner Sandra Diaz-Twine and Natalie White. 
Catch an all new episode of Survivor: Game Changers on CBS at 8 p.m. Eastern on Wednesday. 
Mic has ongoing Survivor coverage. Please follow our main Survivor hub here.