'Injustice 2' Crashing Xbox One: What do if the game keeps freezing or the servers go down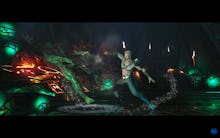 Apparently, a lot of players were really excited to get into Injustice 2 because the servers are already going down. Xbox One players have reported the game crashing repeatedly for both physical and digital copies. If you're having this issue, here's what to do.
Injustice 2 crashing: Check Reddit if the game is freezing
On a Reddit post, user PM_For_Help described the crashing issue. Luckily, a WB Games representative, Gypsy816, was there to help. 
It looks like by the end of the day, that specific issue was sorted out. However, Reddit seems to be the place to go if anything happens. Gypsy816 was also the hero in another story about Injustice 2 bugs, so it seems the team really does pay attention to Reddit.
If you're still running into issues, you may want to take the company's advice and simply quit playing for a few hours. That's not exactly an easy thing to do after waiting for Injustice 2 to finally come out, but for now it appears to be your best option. And if that doesn't work, well, you know where to go for more information.
More gaming news and updates
Check out the latest from Mic, including our list of video games that made fun of their players, a personal essay about dealing with anxiety through Breath of the Wild, a look at the racist and sexist experiences in esports and a plea for better character customization options for black characters.