Officer from department that killed Jordan Edwards used a stun gun on handcuffed black man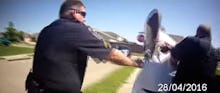 The past month has been a public relations nightmare for the Balch Springs, Texas, Police Department, ever since one of its officers opened fire on a moving vehicle April 29 and killed Jordan Edwards, an unarmed black 15-year-old.
Now, newly obtained footage could make matters worse. On Tuesday, KDFW published a body camera video showing another white Balch Springs police officer using a stun gun on a handcuffed black man, identified as 39-year-old Marco Stephenson.
"Don't pull away," the officer is heard shouting at Stephenson as he stuns him repeatedly. "Do you get it? Because I ain't playing with you today. Do you understand?"
Watch KDFW's video report below:
Footage of the incident — which occurred April 28, 2016 — was mailed to KDFW anonymously. It begins with at least three police officers approaching Stephenson, who is kneeling on a sidewalk with his hands on his head and fingers interlocked.
One officer, who has his gun drawn, kicks what was later determined to be a BB gun away from Stephenson. As he places Stephenson in handcuffs, another officer draws his stun gun and triggers it against the side of Stephenson's body several times, causing Stephenson to fall to the ground. 
It appears, from the footage, that Stephenson is obeying the officers' commands the whole time.
"Yes, sir," Stephenson says meekly from the ground, after the officer with the stun gun tells him to "straighten up."
Balch Springs Police Chief Jonathan Haber told KDFW that the officer using the stun gun was reprimanded and placed on "no contact with the public" probation until he completed classes on conflict resolution and anti-bias training. Haber emphasized that the officer — a sergeant — was reported for his conduct by his own fellow officers.
"[They] did the right thing," Haber said. "They brought it to our attention."
Several investigating bodies, including the Texas Rangers, Professional Standards and the Dallas County District Attorney's Public Integrity Unit, viewed the footage and determined it did not warrant criminal charges against the officer, Haber told KDFW.
But the footage raises further questions about officers in the Balch Springs Police Department's employ. In addition to this officer's behavior, former Officer Roy Oliver — who was fired and faces murder charges for killing Jordan Edwards — was ordered to undergo anger management classes in 2013 after an enraged outburst in a courtroom that year. 
Oliver posted bond at $300,000 and was released May 5.