This is the real reason ABC says they canceled 'Last Man Standing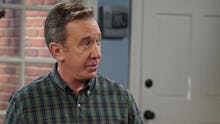 On Tuesday, Tim Allen finally broke his silence on the surprising cancellation of his sitcom Last Man Standing. 
In a tweet, the actor revealed he was both "stunned and blindsided" by the news:
While fans of the show are currently petitioning ABC to bring back the series, the network is speaking out on the real reason why the show was canceled. 
Although some fans believe that it is because Allen is an outspoken conservative and they wanted to oust him from TV completely, the network says that is not the case.
Following Allen's statement on Tuesday, ABC entertainment president Channing Dungey defended the network's decision. According to Entertainment Weekly, ending the show was just part of figuring out the scheduling for the network going forward and not airing comedies on Fridays anymore. 
While the show averaged a strong 8 million viewers during its sixth season, the cancellation was still a tough decision to make for Dungey. "A large part of these jobs are managing failure and we've made the tough calls and canceled shows that we'd otherwise love to stay on the air," she said. 
Dungey continued: "That's the job. I canceled Last Man Standing for the same business and scheduling reasons that I canceled Dr. Ken, The Real O'Neals, The Catch and American Crime. And Last Man Standing was a challenging one for me because it was a steady performer in the ratings, but once we made the decision not to continue with comedies on Fridays, that was where we landed."
The Change.org petition to save the show has currently racked up more than 215,000 signatures. It needs 300,000 to reach its goal. 
Mic has ongoing TV coverage. Please follow our main TV hub here.