Navigating Trump's America: The James Comey memos are a game-changer — here's why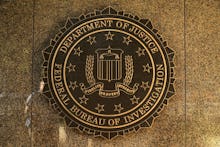 It's not to say the work of Hill legislators hasn't been important; the Senate and House investigations called key witnesses who advanced the public's knowledge of inquiries into the president and Russia. But the New York Times report of a memo from former FBI Director James Comey that says Donald Trump tried to halt an FBI investigation is a game-changer.
Let's review the facts. Up to Tuesday night, public allegations against the president were circumstantial or nonspecific. People expressed concern about possible business ties between Trump and Russia. Others worried that claims made in the damning dossier released back in January were not backed by evidence. Meetings Trump associates held with Russian officials also raised concerns.
Now, the devil is in the details. The Times report says that in February, Trump told Comey, "I hope you can let this go" with regard to the FBI investigation into then-national security adviser Michael Flynn. That is the first direct evidence that Trump tried to influence an FBI investigation. Moreover, the Times uncovered more memos from other meetings between Comey and the president. The existence of these documents could trigger months of a slow drip of news that could ultimately lead to impeachment.
Pursuing specific records is a congressional forte, particularly in the House, where the Benghazi inquiry dragged on for months as thousands of documents were transmitted to and reviewed by members of Congress. Blanket information requests from the FBI could produce extensive records to review, all the while keeping media attention focused on the ultimate findings from those documents.
And know this: Comey keeps meticulous notes. (Here's an example of a meeting with President George W. Bush from 2004.) So, if there is one memo, it's fair to assume there are many more out there.
The digging from Democrats — and Republicans — now begins in earnest. House Oversight Committee Chairman Jason Chaffetz (R-Utah) requested the memo reported on by the Times and any other records Comey created documenting his conversations with Trump. Chaffetz wants those records by next week. Democrats are clamoring for any record they can find — notes, memos, tapes — that would reveal the president's role in influencing federal investigations. Sen. Lindsay Graham (R-S.C.) has called on Comey to testify publicly in front of his Senate subcommittee.
As for that impeachment talk? "I'm not there yet." That was Sen. Angus King's appraisal, speaking on MSNBC on Wednesday morning. The Independent from Maine summed up most of the messaging from Democrats and Republicans on Capitol Hill. While a growing number of Republicans are expressing frustration with the president, most have yet to call for an independent investigation into the president and Russia. They're certainly not talking impeachment — at least not publicly. Republicans largely say they need to see the facts.
For the record: Sen. John McCain (R-Ariz.) says Trump's scandals have reached a "Watergate size and scale." House Speaker Paul Ryan is backing Chaffetz's request for the Comey memos. House Freedom Caucus Chair Mark Meadows (R-N.C.) says "it's important to get the bottom of it."
More Democrats, led by Rep. Maxine Waters (D-Cali.), are beginning to throw the "I-word" around, but most also say they want to see the facts first. Democrats have also called for Comey to testify publicly before Congress. Rep. Adam Schiff (D-Calif.), the Democratic ranking member of the House Intelligence Committee, said Wednesday morning no House committee has formally requested Comey's testimony yet. The Senate Intelligence Committee requested Comey testify privately last week, an appeal he declined.
Again, members of Congress are not putting cart before horse. But that doesn't mean they, particularly Republicans, won't get to the bottom of this.
The White House response: "This is not a truthful or accurate portrayal of the conversations between the president and Mr. Comey." Given Trump has routinely contradicted his staff in the past week, this is being taken with a grain of salt.
This says it all: CBS This Morning contacted 20 Republican senators and representatives to appear on Wednesday morning. None of them accepted the invitation.
Lest we forget Monday night's bombshell already. The report that Trump leaked classified information to top Russian officials was quickly disputed by the Kremlin. Now, Russian President Vladimir Putin says he will send Congress a record of Trump's conversation with the Russian foreign minister. That offer is striking, suggesting Putin has a transcript of the Oval Office meeting. That comes days after Trump suggested he has tapes of White House meetings.
For what it's worth, the president's national security adviser still will not say definitively whether Trump leaked classified information to Russians. And the White House will not confirm or deny that Trump tapes Oval Office conversations.
This is Mic's daily read on Donald Trump's America. Welcome to the political newsletter that wants you to send us your copy of the Comey memos. How do you think the charge Donald Trump influenced an FBI investigation should change the Russia investigations? Email trumpsamerica@mic.com with your thoughts.
What we're watching:
Today: Trump may have tried to stop an FBI investigation. This changes everything.
More: Republicans and Democrats have promised to find the documents that could show Trump obstructed justice.
Even more: Russian President Vladimir Putin says he has a record of Trump's meeting with top Russian officials. Sorry, what?
Fallout: The House oversight chairman has requested any notes Comey took on meetings with Trump, while a Republican senator has asked Comey to testify publicly.
Read this: Only 7% of House Republicans held a town hall after they passed the American Health Care Act: a Mic exclusive.
Trump's agenda today: Speaking at the U.S. Coast Guard Academy commencement ceremony in Groton, Connecticut.
Trump and Erdogan at the White House
As the latest Trump scandal du jour dominated the news cycle, the president hosted Turkish President Recep Tayyip Erdogan at the White House on Tuesday. Erdogan congratulated Trump for his "legendary triumph" in the 2016 election, which drew several thank yous from Trump, who added that "Turkish courage in war is legendary." The meeting was overshadowed by the latest FBI news, with no major policy shifts emerging from the presidential summit. A protest against Erdogan outside Turkey's U.S. embassy in Washington turned ugly when Turkish bodyguards attacked demonstrators, injuring nine.
News and insight you cannot miss:
•  Dozens are dead and wounded after suicide bombers attacked a TV station in Afghanistan. (Mic)
•  Rep. Darrell Issa (R-Cali.) flipped off a reporter when asked about the latest Trump scandal. (Mic)
•  Democratic 2020 hopefuls paraded through the Four Seasons Hotel in Washington on Tuesday. Politico reviewed their speeches.
•  The White House tried to pressure CNN into not reporting information because "it could get people killed." (Mic)
•  Tax reform is dead this year. At least, that's what Wall Street thinks. (Politico)