'Injustice 2' Unlock Brainiac: How to get all the characters in the game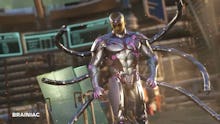 Injustice 2 has so very many characters to play as and fight against. But there's always one more character that you've gotta get your hands on. We hear you — so here's how to unlock Brainiac in Injustice 2. 
Injustice 2 Unlock Brainiac: How to unlock the villain (and everyone else)
According to Twinfinite, the only way to unlock every single character in the game — minus premier characters like Darkseid and any premier skins — is to play through the game's Story Mode. Fenix Bazaar mentions that it'll take about three to four hours to finish the story and unlock Brainiac.
Each of the game's 12 chapters will weave you through the bitterly embattled former friends that have sided with either Batman or Superman. You'll have perspective from either side of the conflict, which will lead to two possible game endings. 
• Chapter 1: Batman
• Chapter 2: Harley Quinn
• Chapter 3: Green Arrow or Black Canary
• Chapter 4: Flash
• Chapter 5: Green Lantern
• Chapter 6: Blue Beetle or Firestorm
• Chapter 7: Cyborg or Catwoman
• Chapter 8: Wonder Woman
• Chapter 9: Supergirl
• Chapter 10: Aquaman or Black Adam
• Chapter 11: Batman or Superman
• Chapter 12: Superman
Once you've kicked around superheroes and supervillains alike, chosen which hero you'll side with and completed Story Mode, Brainiac will be all yours to play as.
More gaming news and updates
Check out the latest from Mic, including our list of video games that made fun of their players, a personal essay about dealing with anxiety through Breath of the Wild, a look at the racist and sexist experiences in esports and a plea for better character customization options for black characters.