How to get more Instagram followers without looking like a spammer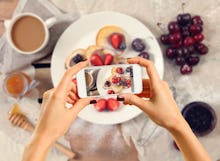 Building your brand on social media likely entails running an Instagram account. The fastest way to earn "street cred" is amassing a following on the Facebook-owned photo-sharing app. For those looking to get more followers on Instagram, here are some dos and don'ts for how to create a larger following.
Share quality content
People will follow you if your feed contains quality content. This means if you post memes, make sure they're funny. If you post travel pictures, share something that will make the viewer want to book a ticket immediately. If you post food porn, it should make stomachs grumble upon first glance.
"The quality of your content is key to getting more followers and, more importantly, is crucial to keeping those followers," Jeremy McGilvrey, founder of Instapro Academy, told Mic. "It's not easy to grow an Instagram page and the last thing you want to do is lose the followers you've worked hard to bring to your Instagram account. A lot of people mistake posting quantity over quality. That's a huge mistake! You should always strive for high-quality content if you intend on attracting quality followers. Something I like to remind people is you only get one chance to make a first impression."
Follow people
If you've got a theme — travel, fashion, beauty, food — then follow people who post the same kind of content. You have a higher probability of getting a follow back if you have a theme in common. If you run a bacon-themed Instagram, odds are you won't get follows from vegan accounts.
"Start by listing 10 to 20 people or brands who have a similar audience. Keep that list in your phone somewhere to refer back to," Sue B. Zimmeran, an Instagram expert who teaches businesses and entrepreneurs how to grow their reach, wrote in a blog post. "When you have time to actively engage, go to each of these accounts and leave genuine comments on their most recent posts." 
Tag your location
When you share a post, always try to tag a relevant location. Instagram's geofeed can serve as a discovery tool for users perusing based on physical location.
Like posts from people you don't follow
Liking posts from people you don't follow is a great way to let other users know you exist. Getting a random like will, in many cases, make the person click on your profile. If they're a fan of what they see, they may even hit that "Follow" button.
This doesn't mean you should like every random image you see. Strategize by liking a handful of relevant posts that use the same hashtag as a photo you've recently shared. Or, if you've geotagged a picture from a specific location, go through the location feed and like content from others who shared from the same area.
McGilvrey says the "law of reciprocity" — when people do nice things for you because you do something nice for them — is at play. "I highly encourage people to go engage with their perfect prospects, so that way they will receive an Instagram notification, which will encourage them to check out their Instagram account and as long as they have high-quality content and their bio is set up correctly, they should gain new followers that way," McGilvrey said. 
Interact with people
Liking is one way of interacting, but leaving comments and engaging in conversation is another great way. Avoid mass comments like "amazing!" or "wow!" and try to leave a genuine comment. Even better: Get a conversation going by asking a question. This has to be authentic, so don't force yourself.
Use hashtags
Hashtags do more than organize photos based on words and phrases. They allow for increased visibility. Other Instagram users perusing a given hashtag can stumble upon your picture and feed and you can earn more followers.
Stick to hashtags that actually pertain to the content of your photo or video. According to Hootsuite, you should look for popular hashtags and get creative by making your own up. What you absolutely shouldn't do is post way too many or use gimmicky ones like "#followme" or "#follow4follow."
Get your work reshared
Don't be possessive about your picture. If you know an account that reshares user submissions and has a big following, try to get your picture or video shared. This will introduce your content to a new audience and will rake in new followers.
Promote your Instagram account in your network
The people most likely to follow your Instagram are people you know. Hootsuite recommends announcing your account on other platforms (say, Facebook and Twitter) and linking it on your website, blog and email signature.
Don't buy your followers
There's a shady online marketplace where you can buy Instagram followers. This can create the illusion of your reach, but its worth is questionable.
Not only are you shelling out money, but there's no guarantee these accounts will be regular followers: If they're spam, Instagram can remove them and if they're not, they could unfollow you at any point. What's more, there's nothing worse than an account with 100,000 followers and with a "like average" of 30.
"There is absolutely no value whatsoever in buying followers," McGilvrey said. "This is not only a horrible short-term strategy but it's a horrible long-term strategy as well."