Dylann Roof told psychologist that white nationalists would rescue him from prison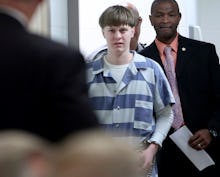 Dylann Roof told a psychologist in November that white nationalists would rescue him from prison and stave off his impending execution, CNN reported Tuesday.
According to transcripts of Roof's competency hearings unsealed by U.S. District Judge Richard Gergel this week, Roof told a psychologist hired by his attorneys that he would "be rescued by white nationalists after they took over the government."
These and other revelations are contained in 19 newly available documents and three video recordings, which catalog jail visits between Roof and his parents as well as psychiatric hearings meant to determine whether Roof was mentally fit to stand trial.
Roof faces the death penalty for killing nine black parishioners at the Emanuel African Methodist Episcopal Church in Charleston, South Carolina, on June 17, 2015. Racism motivated the white 23-year-old's actions, as detailed in numerous interviews, court testimonies and documents, including a white supremacist manifesto written by Roof himself.
There appears to be little evidence supporting Roof's claim that he will be rescued by white nationalists. In fact, his much-debated mental state includes diagnoses of "psychosis (including delusions of grandeur and somatic delusions)," CNN reports.
As for white nationalists taking over the government, Roof was a bit too prescient for comfort. His November statement came the same month that Donald Trump was elected president of the United States, riding a platform of thinly veiled white nationalism. 
Trump has since installed Steve Bannon — former editor of alt-right website Breitbart — as the White House chief strategist, and Sebastian Gorka — who formerly supported a racist, anti-Semitic, far-right military group in his native Hungary — as his deputy assistant. Trump was also endorsed by several white supremacist figures and groups, including the Ku Klux Klan.
If his death sentence is carried out, Roof could be the first federal prisoner executed in the United States in 14 years.