Tips that pay off: Little-known career tips from networking to vacationing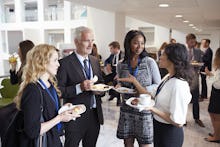 When it comes to navigating careers, we operate under several strong beliefs: Stress isn't a prerequisite to success. Work-life balance is a right, not a privilege. Colleagues are assets, not enemies. Oh, and more money, fewer problems.
So if you're stressed out, overworked and underpaid, here's little-known career advice that can help change all that — and send you on a long vacation before you worry about the rest.
Maybe you bring work with you on vacation — or feel guilty if you don't answer emails on the road? Millennials are more likely than previous generations to either blow off vacation days altogether or try to knock out some tasks while "relaxing" on holiday, according to a survey by Alamo.
Here are three ways you can get the time off you deserve — and push your employer to improve office culture so all workers feel comfortable taking the vacation days they're owed.
You know that co-worker who makes everything about him? Or the boss who is always bragging about her life while never asking about yours? Or the brother-in-law who must turn every family gathering into a fight because of his jealousy and patronizing tone?
The three tips here will help you survive working or interacting with a narcissistic person — and even help improve your relationship with them. We understand if you need to bookmark them.
Imagine a "good networker." What do you think of? Is it someone who wears a slick suit and a big smile, deftly juggling a drink and saying stuff like, "Let's circle up," or, "I'd love to pick your brain"?
If you're a natural introvert, networking with complete strangers can feel totally awkward. And that's OK. The most important thing about networking your way to your next job is actually easier to find than you might think. Here's how to overcome shyness — and what you need to know about authentic networking.
If you wanted one and only one career pointer that would help you get on the right path while you're young, it's to secure yourself a big pay bump in your first decade in the working world. Why?
Raises will probably stop coming sooner than you think they will. A recent study of lifetime earnings of workers between 1957 and 2013 found that pretty much all your pay hikes will come in your first decade on the job. Here are three crucial tips for growing your salary.
Here's a dirty little secret about professional success: It isn't just those who struggle to get promotions or otherwise get ahead at work that feel unhappy. In fact, the very things that make you proud of your career — like frequent salary or title bumps, or a reputation for knocking projects out of the park — might actually be the source of your stress at work.
So what can you do to prevent your work successes from backfiring — and making you less and less thrilled with your job? Try these three strategies, which will help boost your feelings of fulfillment and tamp down your stress.
Sign up for The Payoff — your weekly crash course on how to live your best financial life. Additionally, for all your burning money questions, check out Mic's credit, savings, career, investing and health care hubs for more information — that pays off.