Who is in 'The Emoji Movie'? These are some of the actors in the upcoming animated film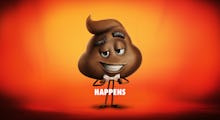 It's happening: The world is finally getting a movie based on emojis. 
This summer, The Emoji Movie hits theaters on Friday, July 28 and it boasts an all-star cast. The animated movie revolves around one particular emoji, Gene, voiced by T.J. Miller. He is a multi-emotional emoji masquerading as a "meh emotion" and doesn't really feel like he fits in.
Taking places inside the world of a phone, Gene gets sent away with the other unused emojis and attempts to become a normal functioning emoji.
Meet The Emoji Movie cast and characters
Gene
Gene is voiced by T.J. Miller. While he's supposed to be a meh-emoji, he can do so much more than that.
Hi-5
Hi-5 is voiced by The Late Late Show host James Corden and he meets his first true friend in Gene. 
Smiler
Saturday Night Live alumna Maya Rudolph lends her talent to the role of Smiler in The Emoji Movie. 
Poop
Sir Patrick Stewart possibly has the best character title in the film. He is credited as Poop, yes literal poop.
Jailbreak
Anna Faris plays the character of Jailbreak who helps Gene on his journey of self-discovery. 
Mel and Mary Meh
Jennifer Coolidge and Steven Wright voice Gene's parents, Mary and Mel Meh.
Akiko Glitter
Grammy-award winner Christina Aguilera voices Akiko Glitter, who lives inside the Just Dance app. Aguilera says she loves this character so much because she's just so free and alive. "She lives the way I would love to express myself all the time," she told Us Weekly. 
Flamenco Dancer
Sofia Vergara voices the beloved dancing emoji and she said it was a natural fit. "I thought it was going to be a perfect role for me because people are always saying that I look like her!" Vergara told People. 
Hear them all on Friday, June 28, when The Emoji Movie hits theaters. 
Mic has ongoing movie coverage. Please follow our main movies hub here.