6 celebrity judges who could join Katy Perry on 'American Idol'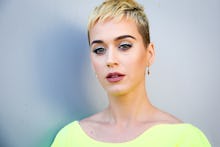 Move over, Simon Cowell, Randy Jackson and Paula Abdul. American Idol has made several changes to its lineup of judges over the years, including having superstars Jennifer Lopez, Keith Urban, and Harry Connick Jr. behind the judges table. But the American Idol reboot is getting some new star power, as Katy Perry has signed on to judge the upcoming season.
The long-running, live-televised singing competition that launched the careers of Carrie Underwood, Jennifer Hudson, Adam Lambert and Kelly Clarkson, among many others, officially ended in 2016. After 15 seasons on Fox, the show is moving to ABC for the 2017-2018 season. 
Ryan Seacrest is rumored to return to host the next season, while former contestant Chris Daughtry has been reportedly confirmed to judge. But who else will join Katy Perry on American Idol? Here are six other musical stars who could potentially take on the role. 
1. Carrie Underwood
Country singer Carrie Underwood was Idol's season four winner. Since winning Idol, she's released five solo albums and collected several Grammys for her music. As a star who won the competition, she'd be a great addition to the judges panel. 
2. Adam Lambert
Lambert was the runner-up of American Idol season eight and is heading on tour with legendary band Queen in June. He is reportedly a desired pick to fill the Idol seats.
3. Fantasia
As the winner of 2004's American Idol, Fantasia has been in the shoes of the forthcoming contestants and can also help to guide them on their journey toward fame. The Grammy-winning singer is reportedly being vetted by the show's producers, as well. 
4. Chris Martin
The lead singer of singer the Grammy-winning veteran rock group Coldplay is reportedly in talks to join American Idol as a judge. Martin, has some experience with singing competitions, having appeared as a guest mentor on The Voice in 2014. 
5. Bruno Mars
Singer-songwriter Bruno Mars has racked up five No. 1 hits since his 2010 debut album, Doo-Wops & Hooligans. The singer is known for his high-energy showmanship, and could give the singers tips not only on singing, but also on stage presence.
6. Janet Jackson
Pop and dance icon Janet Jackson's music career spans 35 years. The singer is heading back on tour this fall, so if schedules don't conflict, perhaps she could grace the panel in a coming season. 
Mic has ongoing American Idol music coverage. Please follow our main American Idol hub here.