Trump told Comey to consider jailing journalists. Here's why that's troubling.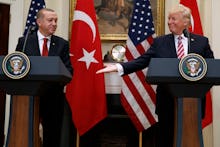 President Donald Trump told now-fired FBI Director James Comey during a February meeting that he should consider jailing journalists who publish classified information, the New York Times reported Tuesday. 
That revelation — part of an explosive Times report that Trump had asked Comey to kill his federal investigation into former national security advisor Michael Flynn — was reported the same day Trump met with Turkish President Recep Tayyip Erdogan, whose government has been one of the worst jailers of journalists in the world. 
The Committee to Protect Journalists described Trump's meeting with the leader of the repressive government as being part of a "shameful trifecta" that also included meetings with Chinese President Xi Jinping and Egyptian President Abdel Fattah el-Sisi. 
Trump had praise for all three leaders. He said he has "developed a friendship" with Xi, is "very much behind" Sisi and was "honored" to meet with Erdo?an, who in turn praised Trump as a "dear friend" and congratulated him for his "legendary triumph" in winning the 2016 election.
As the Times notes, Trump had personally congratulated Erdogan in April for passing a referendum that tightened his autocratic grip on Turkey — but has been silent on the ruler's human rights abuses and media crackdown. 
That, Amnesty International USA executive director Margaret Huang said in a statement, suggests Trump shares Erdogan's contempt for a free press and for dissent.
"This is a disturbing reflection of President Trump's contempt for human rights," Huang said. "Trampling the freedoms of journalists and protestors is no cause for celebration."
Trump's suggestion that Comey imprison journalists was immediately met with backlash, including from the Reporters Committee for Freedom of the Press, which called the alleged remark "dangerous."
"The comments attributed to President Trump cross a dangerous line," Bruce Brown, executive director of the RCFP, said in a statement. "But no president gets to jail journalists."
Trump has long warred with the media, often blasting outlets and reports he does not like as "fake news." Mired in scandals, Trump and his allies have recently proposed sweeping changes to how the press covers the White House, including the president's suggestion that press briefings be eliminated entirely. 
On Monday, Sean Hannity, a Fox News host and staunch Trump defender, suggested that reporters should be required to submit written questions in advance for the White House to respond to, doing away with the traditional question-and-answer format of the briefings.
Newt Gingrich, an advisor to Trump, said on Tuesday that press briefings should be canceled because the media is a "corrupt institution" whose "only interest is making [Trump] look bad."
"I am personally offended by the American news media," Gingrich told Politico, part of the American news media. "I think it is destructive and disgusting. It is a danger to the country right now."
The White House does not appear to have commented on Trump's remarks to Comey about journalists.
But according to Brown, reports of Trump's remarks underscore the importance of the free press — and will only motivate it more.
"Comments such as these, emerging in the way they did, only remind us that every day public servants are reaching out to reporters to ensure the public is aware of the risks today to rule of law in this country," Brown said. "The president's remarks should not intimidate the press but inspire it."