'The Flash' Season 3, Episode 23 Preview: Barry and Savitar to battle in season finale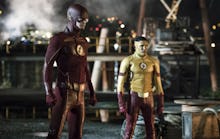 Tuesday night's episode of The Flash ended on a stunningly emotional note. After working tirelessly for months to prevent a single event — Iris West's death at the hands of Savitar — Barry was not fast enough to succeed. In the final moments of season three's penultimate episode, Savitar did what we have seen him do in countless flash-forwards: He killed Iris. 
With Iris' family (the team) left in shock, Barry will still have to find a way to defeat Savitar in The Flash's season finale. And this appears to be an extremely difficult, even nigh-impossible, task. After all, everything Team Flash has tried to date has failed. Even the device that we know supposedly traps Savitar in the Speed Force does not work. This means Team Flash has to find another way. 
Whether Iris West actually died (or if it was someone else) is not yet clear. What is clear, though, is that Savitar needs to be stopped. Somehow, Team Flash needs to prevent the future that Barry saw in 2024. How exactly that happens, we won't know until the finale airs. 
The CW is keeping the finale's plot pretty close to the vest, with both the episode's promo and synopsis revealing little. Still, we have them for you. Here is the brief synopsis, via Spoiler TV, for the season three finale of The Flash, titled "Finish Line": 
With nothing left to lose, Barry takes on Savitar in an epic conclusion to season three.
Hoping for more from the promo? Check it out for yourself:
The season three finale of The Flash airs Tuesday, May 23 at 8 p.m. Eastern on the CW. 
Mic has ongoing coverage of The Flash. Please follow our main The Flash hub here.