Chelsea Manning just sent her first tweet after her release from prison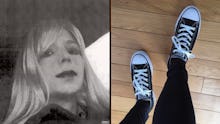 Chelsea Manning was released from military prison Wednesday morning in Fort Leavenworth, Kansas, after serving seven years of a 35-year sentence. Within a few hours of her release, the world finally has its first message from her: a picture of her Converse sneakers. 
"First steps of freedom!" Manning tweeted Wednesday morning. The picture was taken from above, peering down at black-and-white classic Chuck Taylor sneakers. 
Despite extreme restrictions to her freedoms in prison, Manning has kept an active Twitter presence. Friends of Manning told Mic in earlier interviews that, in order to tweet, Manning relies on friends with internet access, which she lacked while incarcerated. 
One friend and confidante, Evan Greer, said in an interview that Manning has lacked control over her own image while incarcerated. 
"Chelsea has been robbed of that right to have any semblance of control over her image," Greer said. "I can say myself, as a trans person, those basic things like how I wear my hair and how I present myself are a huge part of how I define myself."
The tweet also linked to an Instagram post, the first from Manning's brand-new Instagram account. 
Several Twitter users responded enthusiastically to the image and message from Manning.