This is why Netflix movies won't be able to compete at Cannes Film Festival in 2018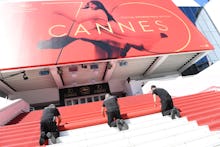 For 70 years now, the Cannes Film Festival has showcased some of the best new films of a given year. Selection into the festival is highly competitive, and those films that go on to win prestigious awards like the Palme d'Or or the Grand Prix will likely be remembered forever. But it seems that, going forward, Netflix's films will almost certainly not be among those competing for those highly sought-after prizes.
In a press release, the Cannes Film Festival announced new rules that will ban films from competition that do not meet strict distribution standards. According to Cannes, "Any film that wishes to compete in Competition at Cannes will have to commit itself to being distributed in French movie theaters."
The rule, which will first go into effect for the 2018 Cannes Film Festival, effectively excludes Netflix's films from the competition, unless the streaming service decides to alter its distribution model. Since the new rule will not begin until 2018, two Netflix films, Bong Joon Ho's Okja and Noah Baumbach's The Meyerowitz Stories will be screened as part of the 2017 Cannes Film Festival.
If Netflix hopes to use the Cannes Film Festival to generate buzz for future films, the streaming service will have to be willing to distribute those movies in France. The big issue with this is that French law does not allow a film to be released online for streaming until three years after its in-country wide release. Short of this law changing, it seems unlikely that Netflix will compete at future Cannes Film Festivals.
Mic has ongoing coverage of Netflix. Please follow our main Netflix hub here.