9 easy tricks to improve your food photos, according to top Instagrammers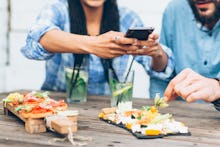 For better or for worse, social media now plays a major role in food. Some consider the aesthetics of plating and dining space just as important as the taste of the food itself. Restaurateurs are adjusting to the demand for Instagram-worthy experiences, putting design at the forefront of their businesses.
It's great when restaurants do all the work for you — neon signs and exposed brick can add a nice pop in a food photo. But even your favorite hole-in-the-wall has great photo potential, so long as you use the right techniques. 
Mic asked several prolific food Instagrammers to share their secrets for picture-perfect success. From picking the right table to moving around the table settings, these tips are near guaranteed to help you nail your next food shot. A picture is worth a thousand words, but the perfect Instagram could be worth a thousand likes. 
1. Plan your shot before the food arrives at the table. 
Nothing ruins a great meal like when your first bite is cold because your Instagram-loving friend insisted on taking a million photos. Respect your tablemates by brainstorming your compositions before the meal arrives, Alexa Katz (aka @alexadawgz) said in an email interview. 
"Think through your shot before your food arrives," Katz said. "This way, you can take photos quickly and eat while your food is still hot and before your friends get annoyed."
2. Do brunch, not dinner. 
Lunch is more photogenic than dinner — but not because of what's on the menu. It comes down to a matter of daylight, Benjamin Liong Setiawan (aka @hungryeditor) said in an email interview. "If you are able to, opt for lunch over dinner to maximize your exposure to daylight," Setiawan suggested, explaining that "natural light is best." (Bonus: You might save a few bucks, since brunch can be less expensive than dinner.) 
Jeremy Jacobowitz (aka @brunchboys) also aims to shoot more often during the daytime. "It means I won't be shooting dinners during the winter, since the sun goes down so early, but I'd rather always have the sun to light my photos," Jacobowitz said in an email. "If you don't have good lighting, then you wont have good photos."
3. Brave the cold.
If a restaurant's wait staff accommodates table requests, choosing a well-lit table will help you get a good shot, Jacobowitz said. 
"The first thing I do [in a restaurant] is try and find the table with the best possible natural light, which is usually the table closest to a window," he said. "If there isn't a good table, I will see if there is some other area with good light, and find out if its OK to bring dishes over there and shoot them." 
Dining al fresco will also up the potential for well-lit shots. "Always sit outside or as close to a window if possible," Steven Leonardi (aka @brunchbabes_nyc) said in an email. "Even if it's a bit chilly outside, you won't regret it when you snap a picture that needs very minimal editing." 
4. Style the shot by moving around the table setting.
A professional food stylist would incorporate utensils or highlight a beautiful serving plate — and you can steal that strategy for yourself. "Feel free to move things around to help 'style' the shot," Setiawan said. "You might add in that fork or glass as a prop. Or take them all out for a more minimal shot." 
You can also include hands reaching for foods or glasses for more "action" shots, Katz noted. Kudos if your friends have finger tattoos.
5. Focus your camera. 
Sometimes the simplest tips bear repeating, and this is one of them: To make sure your photos come out crisp and clear, you'll want to tap and hold the focus of your smartphone camera. (On an iPhone, this feature is called the AE/AF lock.) 
"On an iPhone, that little tap on the screen to help the camera focus on a specific point is super helpful in combating blurry images," Setiawan said. 
6. Recruit tablemates or other diners to help. 
Don't be shy to ask other people for some help. Since you'll be manning your smartphone to take the photos, it's useful when someone else holds the food. It's impossible to snap a successful cheese pull without help.
"When we were in Costa Rica, we wanted a great shot of these amazing tropical drinks, but we didn't have enough hands to hold the drinks and take the picture," Leonardi said. "So we asked a couple at the resort to hold the drinks so that I could move around and take pictures from different angles."
7. Never use a flash. 
Nothing screams newbie like a flash. "Not only will your photos appear tacky, oversaturated and yellowish, you are also drawing unnecessary attention to yourself and may disrupt other diners," Katz said. "If you do not believe you can take a high-quality photo due to poor lighting at night, perhaps return to the restaurant for lunch another time." 
That being said, there's one less-offensive trick to lighting your shot if the restaurant is dim: Recruit a friend to use their smartphone like a flashlight to illuminate your meal, Setiawan suggested. Holding it above the dish will create a soft spotlight. 
8. Edit before you post. 
Gone are the days when an Instagram filter would suffice. "Find a [photo] editing app that works best for your style," Leonardi said. He likes using Aviary, but other popular editing tools include Snapseed and VSCO, two apps that allow users to boost brightness, contrast, texture, saturation, highlights and more. Upping the exposure and white balance can do wonders for making a drab photo look downright delicious.  
9. Not every meal needs to be documented. 
Not every single thing you eat needs to be broadcast to your followers, and you should be sensitive to your fellow diners when taking photos. "A lot of the most interesting and desirable dishes to photograph are served at places that people don't get to frequent often, so don't ruin their special night by making a scene," Katz said. 
"If you are at a fine dining restaurant, you should never stand up on the chair or table to get the perfect photo," she added. "Not only is this rude to fellow diners, you may get embarrassingly caught on camera. This happened to a friend of mine and was posted all over the internet!"