'Tekken 7' Demo PS4, Xbox One and PC: Will there be a free demo for the new fighting game?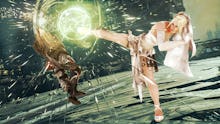 Video games are expensive. Not everyone can afford to throw down $60 for something without at least trying it out first. That's where free demos come in. Unfortunately, you're far from guaranteed to get a demo of any given game these days. Will Tekken 7 be an exception?
Tekken 7 demo: Will it be free to try on PS4, Xbox One or PC?
Tekken 7 makes its long-awaited console launch on PS4 on June 2. In other words: in just a couple weeks. Unfortunately, there's no word yet on whether there will be a way to try before you buy; Namco Bandai has yet to make an announcement in either direction on that front. 
Someone even made a petition to get a free Tekken 7 demo for PS4 — no joke. Unfortunately, it failed to meet its goal of 500 signatures and is now closed. However, you can still share the petition online if you're so inclined.
If Tekken 7 never gets a free demo, you'll just have to do what you do with most other games: Read reviews, watch streams and do whatever else you need to do to make an informed purchase. We'll let you know if a Tekken 7 demo suddenly drops, and you can expect plenty more coverage once the game officially arrives next month.
More gaming news, updates, tips and tricks
Check out the latest from Mic, including our list of video games that made fun  of their players, a personal essay about dealing with anxiety through Breath of the Wild, a look at the racist and sexist experiences in eSports and a plea for better character customization options for black characters.