The House and Senate want James Comey's memos and testimony. What happens next?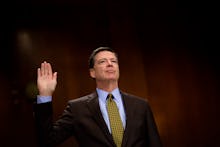 The news that President Donald Trump asked former FBI Director James Comey to halt his probe into then-national security adviser Michael Flynn set off a chorus of calls from members of Congress for evidence. 
On Tuesday and Wednesday, top lawmakers in the House and Senate asked the FBI to provide all documents related to meetings between Comey and Trump. Multiple Senate committees have also called for Comey to testify in public hearings, leading House Oversight Committee chairman Jason Chaffetz (R-Utah) to tweet Wednesday that Comey would testify next week.
Here's what the committees are seeking and how it will affect ongoing investigations into allegations of collusion between the Trump campaign and Russian officials. 
Senate Intelligence Committee
Senate Intelligence Committee chairman Richard Burr (R-N.C.) and ranking member Mark Warner (D-Va.) struck a bipartisan tone on Wednesday in their request for "any notes or memorandum" regarding communication between Comey and White House or Justice Department officials about Russia's efforts to influence the 2016 election. The committee has previously held hearings on the matter, and Burr, Warner and others have met privately with top federal intelligence officials over the past few months but have revealed few details on what they've learned. 
Burr and Warner also called for Comey, who hasn't appeared before the committee since his May 9 firing, to testify in closed and open sessions. The former FBI director was invited to testify in a closed setting this week, but Warner said Friday the invitation was declined.
"I can't think of a single Republican colleague of mine that I've talked to, at least privately, who hasn't expressed real concern [about the memo]," Warner told reporters Wednesday.
House Oversight Committee
Chairman Jason Chaffetz (R-Utah) on Tuesday was the first to seek documents related to the stories alleging Trump tried to influence Comey. Chaffetz's letter to Interim FBI Director Andrew McCabe requested any records the bureau has related to communications between Comey and Trump. 
Under Chaffetz, the Oversight Committee has gone after Republican and Democratic pet issues alike, including allegations that former Secretary of State Hillary Clinton leaked classified information through her private email server. Chaffetz was the first to announce Comey reopened the inquiry into Clinton's emails days before the 2016 election. 
Since Trump's inauguration, Chaffetz has pursued an inquiry into Flynn, saying in April that Flynn did not comply with laws concerning the receipt of money from foreign governments. He's also opened investigations into the leaking of classified information to the media.
On Tuesday, Chaffetz said he had his "subpoena pen ready" if legal action is necessary to force the release of Comey's memos.
Senate Judiciary Committee
Not to be forgotten, the Senate Judiciary Committee went the furthest with its request for information. The committee's top Republicans and Democrats asked for all memos created by Comey related to his interactions with not only Trump, but also past presidents and Justice department officials. 
Chair Chuck Grassley (R-Iowa) and ranking member Dianne Feinstein (D-Calif.) are taking a wider view than their congressional counterparts. Their request also sought any tapes of Oval Office conversations. While the Judiciary Committee has been conducting its own investigation into the alleged collusion between the Trump campaign and Russia, it hasn't been as high-profile as the Senate Intelligence Committee's inquiry. 
Sens. Lindsey Graham (R-S.C.) and Sheldon Whitehouse (D-R.I.) supported the letter from Grassley and Feinstein. The chair and ranking member, respectively, of a judiciary subcommittee focused on terrorism, Graham and Whitehouse have also called on Comey to testify publicly in front of their body. 
House Intelligence Committee
House Intelligence Committee vice chairman Adam Schiff (D-Calif.) said Congress needs to see any documents created by Comey. "We need to get those notes, if they exist, that Director Comey took of this conversation," Schiff told ABC on Wednesday.
What happens next? 
The release of Comey memos and other materials to Congress would immediately change the nature of congressional investigations into the president and Russia. Multiple committees requested the FBI provide documents from Comey no later than next Wednesday, ensuring this topic will not drift out of the news cycle. Ultimately, any proof that Trump tried to meddle in an FBI investigation may result in obstruction of justice charges. 
Lawmakers won't be the only ones seeking Comey's memos. The American Civil Liberties Union announced Wednesday it would also ask for documentation of the conversation between Comey and Trump.
Comey is set to testify in front of Congress at 9:30 a.m. Eastern on Wednesday, according to Chaffetz. As he could open a whole new angle into the Russia investigation, the former FBI director's testimony will be must-watch TV.