'Injustice 2' Tier List: Ranking the best and worst characters to play with, ranked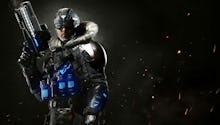 Injustice 2's extensive roster can be a bit intimidating to dive into, especially if you're not sure which character to play as. Tier lists sort characters into letter tiers — S-Tier is highest, followed by A, B, C, D, E and finally F for the worst fighters — giving players a clear picture of which fighters are great and which ones come up woefully short in battle. 
Before you grab your controller, familiarize yourself with Injustice 2's best and worst characters.
Injustice 2 Tier List: Ranking all the game's fighters
RankedBoost has put together an early tier list for Injustice 2, giving us some insight into which fighters are reigning in the game. The list will be updated and rearranged based on win-rates in competitive play, so while this is a good start in the early days of the game, things will inevitably shift as competitive play picks up.
The tier list is based on "characters' base stats, moves and abilities," according to Ranked Boost.
Injustice 2 Tier List: The best characters
According to RankedBoost, the best characters in the game, ranked at S-Tier, are Captain Cold, Deadshot, Darkseid, The Flash and Atrocitus. Ranked just below at A-Tier are Robin, Firestorm, Green Arrow, Brainiac, Cyborg, Dr. Fate, Harley Quinn and Aquaman.
Injustice 2 Tier List: The worst characters
RankedBoost has also ranked the worst characters to play as. Ranked at the very bottom are just two characters, Bane and Gorilla Grodd. Just above them at D-Tier are Catwoman, Cheetah and Poison Ivy. 
I'm sad to see one of my favorite characters, Poison Ivy, sitting near the bottom of the pack, but the tiers will likely shift as players discover new strategies and Injustice 2 rolls out future updates. So there's still hope for my fave Batman villain.
More gaming news and updates
Check out the latest from Mic, including our list of video games that made fun of their players, a personal essay about dealing with anxiety through Breath of the Wild, a look at the racist and sexist experiences in esports and a plea for better character customization options for black characters.